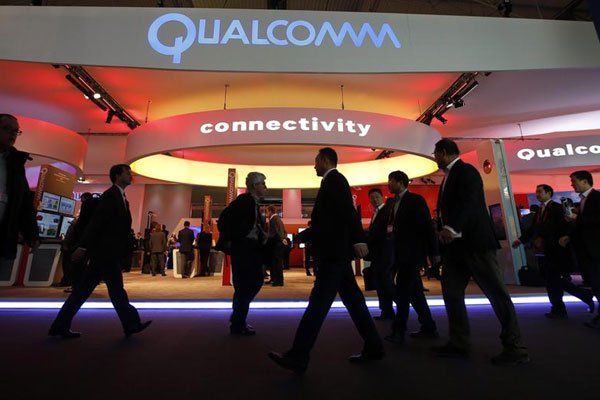 Visitors walk past the Qualcomm stand at the Mobile World Congress in Barcelona in this file photo taken February 24, 2014. [Photo/Agencies]
The National Development and Reform Commission confirmed on Thursday that
Qualcomm Inc
, one of the world's largest mobile chipmakers, has a monopoly.
Xu Kunlin, director general of the Price Supervision and Anti-Monopoly Bureau under the NDRC, told China Daily the investigation is nearly concluded and the result will be announced soon.
An anti-monopoly investigation against Qualcomm was launched last November at the company's Beijing and Shanghai offices.
Qualcomm was allegedly found to charge excessive license fees even though its share of royalties had declined.
The overall patent royalty for all handset and mobile chip makers is not expected to exceed price by more than 10 percent, Qualcomm alone hit half that figure, Securities Times reported. Its revenue from chips and licenses was $24.3 billion last year.
The profits of its licenses accounted for 70 percent of the company's profits, according to the same Securities Times report.
Qualcomm CEO Steve Mollenkopf declined to comment on Thursday.
Wang Xiang, the company's China head said, "There is nothing I can say at this point."
A patent cross-licensing platform was built by Qualcomm to aggregate related patents and to avoid patent disputes.
Qualcomm earned $12.3 billion in China for its fiscal year ended September 29, or nearly half of its global sales.
The US company said on Thursday that it has made a commitment to invest up to $150 million in Chinese startup companies across all stages, including Internet, e-commerce, semi-conductor, education and health.
Ni Huiliuqian contributed to this story.