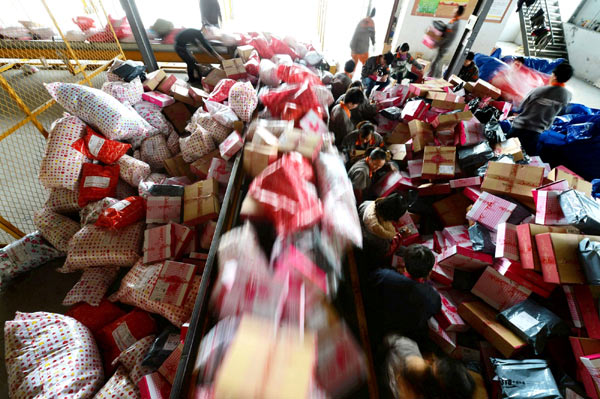 Goods for delivery pile up at a distribution center for courier company Shentong Express in Yangzhou, Jiangsu province, on Jan 11, 2014. [Photo / China Daily]
E-commerce has changed, and will continue to change the landscape of China's domestic consumption market, reports Meng Jing.
Jack Ma, one of the feistiest business gurus, who has built China's largest e-commerce conglomerate from scratch, wagered 100 million yuan ($16.5 million) with one of the country's richest real estate tycoons in December 2012.
Ma,founder and chairman of Alibaba Group Holding Ltd, made the sensational bet on a China Central Television program with Wang Jianlin, head of Dalian Wanda Group, saying that online shopping would account for about half of the country's retail sales in 2020.Wang, one of the largest mall developers in China, bet that online consumption wouldn't increase that fast.
A year later, on the same program, Wang called off the bet and announced his group will expand into the e-commerce sector. Wang's changing attitude seems to be a perfect summary of China's e-commerce development in 2013.
In the past year, e-commerce has proved to be a new powerhouse for China's economic growth. The overall volume of China's e-commerce market is expected to reach 10 trillion yuan in 2013, said China's Ministry of Commerce in December.
Despite a relatively slower momentum of an estimated 60 percent year-on-year growth, China's online retail sector is estimated to overtake that of the United States, becoming the largest online retail market in the world with a total revenue of 1.8 trillion yuan in 2013, according to the ministry.
This incredible surge has been boosted in no small way by the annual consumption bonanza that took place on the so-called Chinese Singles Day on Nov 11, when people are encouraged to spend on themselves. E-commerce companies in China have turned it into the world's biggest online shopping festival with Alibaba alone reporting record sales of 35 billion yuan on its Taobao and Tmall sites, two of the company's key online marketplaces, within 24 hours.
The robust development of e-commerce has certainly attracted the attention of the Chinese government. The Ministry of Commerce drew up a blueprint to further boost the sector, aiming to make it play a bigger role in the transformation and upgrading of China's economy.
According to the blueprint, China will expand the use of e-commerce with a focus on key areas including retail, cross-border trade, agricultural products and the service sector.
Total e-commerce transactions in China, including retail sales, are expected to exceed 18 trillion yuan by 2015 with online retail sales making up to 10 percent of the country's total retail sales in the same year.
Apart from boosting the development of e-commerce, the Chinese government has also strengthened the regulations in an effort to guide the e-commerce sector toward a healthy and sustainable development.
The country started in 2013 a two-and-a-half-year process of drafting a comprehensive e-commerce law and a revised law on the protection of customer rights and interests that will take effect on March 15 to better protect online shoppers.
Compared with the dazzling sales promotions of online marketplaces in China in 2012, the market in 2013 was more mature and more rational.
With the focus of competition shifting from price wars to build up core competitiveness, e-commerce will shoulder more responsibility in terms of driving up China's domestic consumption as well as becoming more influential to better bridge the online and offline businesses.