Companies need more targeted approach toward elderly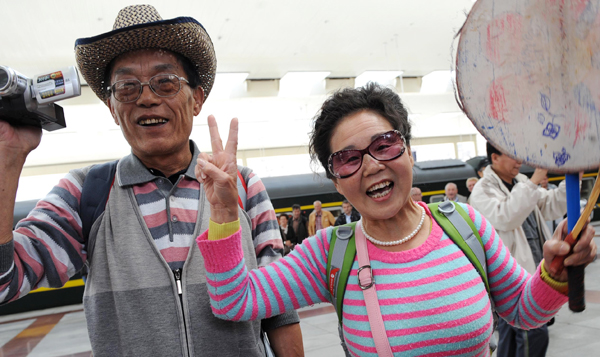 A senior citizen couple arrive at Lhasa, capital of the Tibet autonomous region, for their sight-seeing tour. [Photo/Xinhua]
When I lined up to board the Princess Cruise with my parents in October, I was surprised to find so many senior citizens around us. Most of the travelers, as far as I could see, were in their 60s or 70s.
The cruise, which lasted five days and six nights, started from Shanghai and then sailed to South Korea and Japan. The average cost was around 3,500 yuan ($522) per person, excluding tips.
A couple aged 82 and 83 respectively told me that their daughter booked the cruise for them. "Compared with other types of traveling, taking a cruise is more comfortable for us," said the couple.
Shen Chi, a Shanghai local in her 60s, said it was the third time for her to take a cruise, due to its convenience and flexibility.
According to a report by Tuniu Corp, an online travel agency based in Nanjing, elderly travelers dominated the medium- and low-end cruise markets.
Traveling, however, is only part of the ballooning business opportunities from China's fast-growing gray population.
In North Point, a prime Hong Kong residential area, stands a brand new, premium housing development, combining residences with top-notch amenities. There's a gym, a swimming pool, a theater, all sorts of function and business meeting rooms, and naturally, mahjong rooms.
Its target customers are people aged over 65.
A report by f.qianzhan.com showed that China's elderly population (those aged more than 65) has grown rapidly since 2000. By the end of 2014, this group has exceeded 138 million. And the growth will further accelerate. By 2020, the number will hit 250 million, almost nearing the total population of the United States. And it may further grow to 300 million by 2025.
Globally, the over-60s constitute the fastest-growing group in the populations of developed countries, with their number set to increase by more than a third by 2030, from 164 million to 222 million. The over-60s currently spend some $4 trillion a year and that figure is set to grow, according to The Economist.
Although Chinese senior citizens are not as well off as their global peers right now, this "grey market" should not be neglected, given the country's huge base.
The senior care industry, for instance, will probably become China's biggest industry, with a market value of more than 10 trillion yuan in the next 15 years, replacing the real estate industry.
And that's why the country's leading property developers and major insurers are jumping on the bandwagon.
Vanke, China's largest real estate company in terms of market value, for instance, recently unveiled ambitious plans for the senior care industry.
According to Li Wei, general manager of Vanke's Hangzhou unit, the company's senior care project will set up 1,000 branches, covering more than 600,000 senior people with over 50,000 direct clients.
However, doing business with the elderly may be not so easy. Compared with young customers, most senior citizens are budget-sensitive and can be very choosy.
For daily consumption, for instance, they are usually not eager with regard to product upgrading and they need fewer consumer goods than young people. So, to get the most out of their money, most FMCG-fast-moving consumer goods-companies still focus on young and middle-aged customers.
There is a similar situation in the travel sector. According to an insider at a renowned travel agency, although senior citizens account for more than 60 percent of its clients, the company's profitability from aged customers' traveling group are usually 30 percent less than other groups as they are very cost-sensitive and usually keep a tight grip on their purse strings.
Segmenting the marketing, identifying the target customers and churning out products that really meet their needs, I believe, can still provide businesses with a chance to secure good investment returns from the gray market.