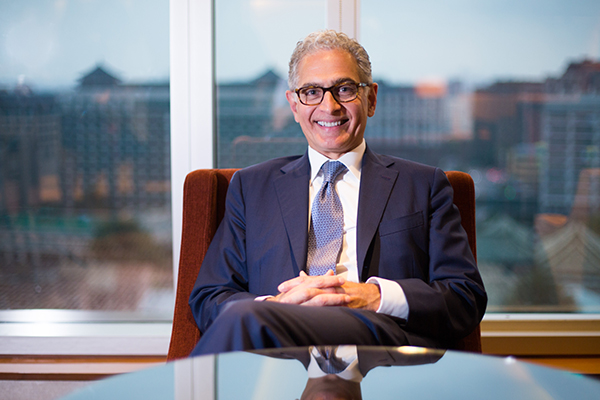 Mark S. Hoplamazian, president and chief executive officer of the Hyatt Hotels Corp. [Photo provided to China Daily]
Staying close to customers and understanding their needs are key for Hyatt, says its chief
The year 2017 will be the 60th anniversary of Hyatt, which was founded by Chicago billionaire Jay Pritzker in 1957, when he acquired the Hyatt House motel adjacent to the Los Angeles International Airport.
But rather than just looking to celebrate its expansion into a global hospitality company with widely-recognized leading brands, the hotelier is focusing on the future, according to Mark S. Hoplamazian, president and CEO of Hyatt Hotels Corporation.
Hoplamazian said the focus is not on a particular initiative, but rather thinking about the next generation.
He said the group will be expanding significantly in the coming four to five years, operating in 26 new markets.
"That to me is a very important dynamic, because those are markets which we know our customers are looking to travel to."
Hoplamazian spoke with China Daily about the company's strategy and its plans for the Chinese market. The following are edited excerpts from the interview:
You have said the goal of Hyatt is not to be the largest hotel brand in the world, but the most preferred hotel brand. Why say so?
For us, making sure that we stay close to our customer base and understand what they are looking for, while adapting what we do to new experiences for our guests, is really key for us.
It's important to be present where our guests are traveling. We are not trying to serve everyone, everywhere, with everything. What we want to do is to stay focused on high-end travelers and make sure that we understand what they are looking for.
It is a much more focused approach, as opposed to just maximizing the number of hotels.
How has the China market performed for the group so far this year, and how do you see its prospects?
China has continued to show stable, positive progress. One of the great things we enjoy in China is a very strong reputation in food and beverage. F&B operations led very strong growth in revenue in China, and nearly 50 percent of our total revenue base comes from F&B, which is one of the highest in the world. As for room rates and occupancy, overall it's been positive in China.
How has China's ongoing anti-extravagance campaign affected your business?
Our business is not necessarily dependent on governmental business or State-owned enterprise business; it is just a part of the total demand in the market. The good news is that many new hotels have opened, the new supply is being absorbed, and business continues to grow.
When we look at the ramp-up for our new hotels openings, we see consistent increases in the revenue base over time. I would say things have been stable and positive over the past year and a half.
How do you differentiate Hyatt's brands in China, and how does China fit into the big picture for Hyatt?
It starts with how we set the culture and tone internally. We have a distinct positioning for each brand that is designed around its core customer group.
We've taken time to bring them to life in different ways. To give an example, Park Hyatt is a contemporary, modern luxury brand, committed to a refined, sophisticated experience.
We have created a program called "Masters of Food & Wine" which brings master chefs and sommeliers from around the world and creates a unique program for different cuisines. It's a very characteristic of the Park Hyatt brand.
China's rising middle-class families have contributed to the strong growth of both domestic and outbound travel. In what way is Hyatt addressing such demand for Chinese leisure travelers-both at home and abroad?
We are seeing a lot more outbound Chinese travelers, and that is definitely having an impact on global travel. One thing that is evolving, here and around the world, is this whole movement towards experiences rather than products.
Increasingly customers, not just Chinese customers, are looking for experiences.
In other words, even if you have a great product, it has to support great experiences. It's not just about having great rooms, great lobbies and great restaurants.
Those things are important, and they have to be there to create a good experience, but it has to extend beyond hotels.
How do you encourage guest loyalty?
We try to build a community of travelers connected to our brand. We have a loyalty program, the Hyatt Gold Passport, which has significantly helped to increase membership.
More than a third of our business comes from these guests.
The amount of time they are staying with us and the amount they are spending with us continue to increase.
We also have a program called "Club at the Hyatt", which is a membership program that allows members to have a special experience with Hyatt, even when they are living at home.
How do you motivate and lead international staff?
As a company, we are very focused on one central purpose, which is: We care for people so they can be their best. Expressing our care for people comes first through how we hire people, how we develop our colleagues, and give them opportunities over time.
We don't tell them to conduct themselves in a certain way, follow these rules and speak in certain way. We want people to show who they are. That's true everywhere around the world, and it's also very much true in China. Currently, we have 14,000 employees in China, with thousands more coming with new openings.
To me, that's really a huge and important opportunity for us to make a contribution, to have a great impact on a big population of young people, by giving them career paths.
What is your life/business philosophy?
I am not sure I have just one. I had the benefit of having a really wonderful mother-in-law. She was a unique person and she taught me a very invaluable yet simple lesson. She said: "in life, you should have only one set of manners." That meant you don't treat people differently depending on whether they are super important, or someone who is maybe just an ordinary citizen.
You should always treat people with respect. That basic life philosophy is very simple but very powerful.
As an international traveler, how do you balance work and family?
Sometimes my work life takes over my whole life, and sometimes my family time takes over.
I don't try to balance them at every moment in time, because it doesn't work that way for me. The more important thing I find is, no matter what you are doing, to be fully present and mindful of what's going on while you are there.
What are your interests and hobbies?
I'm an active person, so I like exercising. I work out almost every day. I really like food and wine. If I am traveling and I have the time, I also like to go to a gallery representing local artists.
I like to see what's happening in the local art scene, I always find it fascinating. Also music, I like to go to places with live music so I can find the vibrancy in the local community.
How many times have you visited China? Which are your favorite cities?
I can't decide which city or hotel is my favorite. It's like asking me which of my children I love more, I cannot choose.
I love exploring different countries, so I like to get around and see different hotels and markets, learning as I go. Every place I've been has such a different feeling to it.