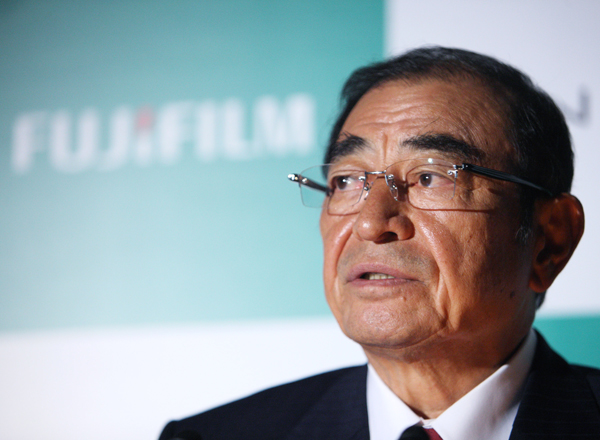 Shigetaka Komori, president and chief executive officer of Fujifilm Corp. [Photo / Agencies]
Fujifilm has survived and transformed into a global technology brand under its veteran chief
When the Tokyo-headquartered Fujifilm Corp elevated Shigetaka Komori, 77, its CEO since June 2003 and group president since 2000, to chair-man in 2012, photographic products, the company's mainstay, were reeling from the digital onslaught.
There was a time when photo graphic products accounted for 60 percent of the company's sales and up to 70 percent of its profit. But, within a decade, digital cameras evolved and thrived - and nearly destroyed Fujifilm.
The fate that befell Fujifilm's US rival Eastman Kodak Co, the 131-year-old maker of photographic film that filed for bankruptcy protection in 2012, almost came knocking on the company's door.
But, led by Komori, Fujifilm not only survived but with-stood the testing times. Today, it has transformed itself into a global technology brand known for innovation in six fields, with more than $20 bil-lion in annual revenues.
In accordance with its global strategy of diversified development, Fujifilm has been focusing on healthcare, graphic arts systems, highly functional materials, document solutions, optical devices and digital imaging.
Fujifilm operates 16 plants and branch offices in China. The company has invested more than $213 million in China and is optimistic about its future.
Recently, Komori spoke with China Daily about the company's strategy and his management style. The following are edited excerpts from the interview:
What's the secret of Fujifilm's success in China?
The key elements of our success are that we are honest and fair to society and to our stake-holders, no matter what kind of markets we are in. We have contributed to the Chinese society by providing products and values of high quality, good cost performance, excel-lent technology, and high credibility, which also fulfill the specific needs of the China market.
In the meantime, we cultivate sales talent who are able to understand customers' needs, deliver the advantages of our company and products, and thus win more market share.
How do you promote your business in China?
Although China has slowed down its economic growth, its economy is still growing. China's developments have great impact on the global economic environment and its neigh-boring countries. In this case, China's economy is always one of our company's concerns.
China is an important target market of all companies.
Currently, the expansion of medical services, environmental protection and energy saving are two major concerns of Chinese society, and Fujifilm has expertise in these fields. Therefore, we do hope that we can make a significant contribution to China.
What is your strategy in China?
Fujifilm's dream in China should be realized by top-quality products and service susing its cutting-edge, proprietary technologies.
First, we would like to enhance Chinese consumers' life quality. Second, we would like to contribute to Chinese society with solutions for the development or advancement of culture, science, technology and industry, as well as improve health and environ-mental protection.
By promoting the business of the above-mentioned fields, we increase our sales, and then use part of the profits to further develop innovative products and services.
What are your long-term plans for the China market?
Fujifilm will further enhance its research and development abilities in medicines and healthcare-related products to make breakthroughs as consumers have a great demand for products and services that can improve their health.
We are building a network between our databases and hospitals, as well as clinics, to share medical information to improve the efficiency of medical treatment.
We certainly can help doctors with invaluable reference material, to enable them to make quick and correct decisions in critical cases.
What is an effective leader-ship for a company in China?
The basic elements of a leader should be keen judgment, flexible response capacity to mobilize, high efficiency in execution and farsightedness, to lay the foundations for a long-term development
A good leader is able to grasp the essence of the information with quick and accurate analysis of the current situation.
How important is R&D investment for Fujifilm?
No matter how unpredictable the company's financial situation was, we implemented reforms in the past. I refused to cut back on R&D investment, including building the Fujifilm Advanced Research Laboratories. Even in the toughest of times, we man-aged some how to put together 200 billion Japanese yen a year for R&D.
How do you motivate your international team?
We endeavor to make our overseas staff understand Fuji-film's corporate values and thinking modes. Apart from our high-quality product line, we also provide necessary sales tools, and push ahead with the business by training local staff and sending Japanese talent to local companies.
Our corporate philosophy is this: We will use leading-edge, proprietary technologies to provide top-quality products and services that contribute to the advancement of culture, science, technology and industry, as well as improve health and environmental protection in society.
How do you handle hardships and setbacks?
Collect information, analyze the situation, find most appropriate measures, and then implement decisively. In such cases, judgment is crucial.
As CEO of Fujifilm, I make judgments every day with the belief that even if I must make 100 decisions, I won't make any wrong decision.
How do you ensure that all the management decisions are implemented smoothly?
Without communication from the top, the organization won't budge.
From formulating plans on what is to be done to making the final decision to go ahead, the leader must communicate it all byway of a clear-cut-message to employees.
In addition to sending a message to all employees four times a year via the in-house newsletter, I explain the company's vision and goals at the fiscal year meeting at the main office and at principal factories and research centers, as well as during my NewYear's speech.
In these talks, I repeatedly explain the present circumstances of the company, the direction we are headed in, and what we need to do, or more correctly, what must absolutely be done toward achieving those goals.