Home / Business / Biz Photos
Top 10 trends in China's internet development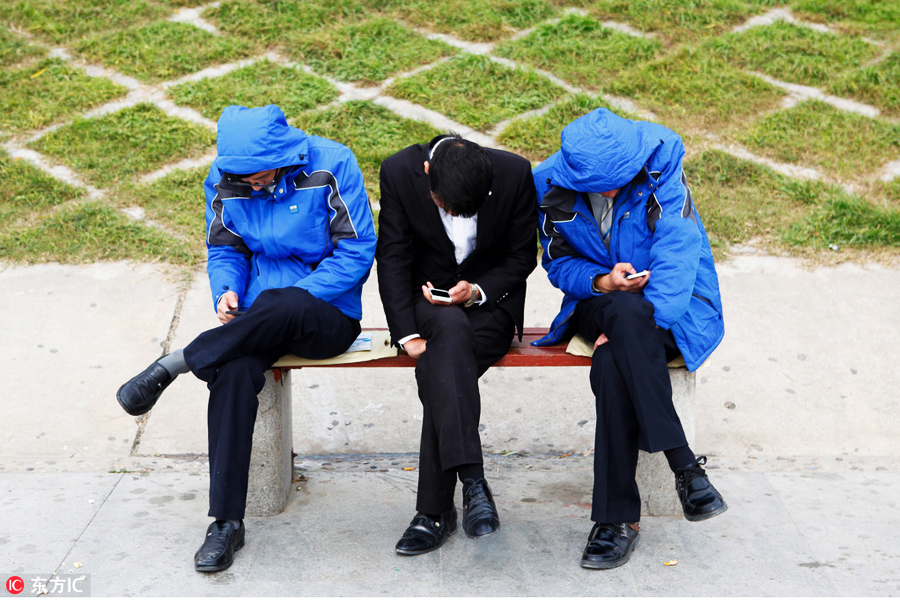 Three young men sit on a bench, with their heads buried in their smartphones, in Xianyang, North China's Shaanxi province, November 6, 2014. [Photo/IC]
The number of Chinese using internet rose to 710 million as of June, accounting for 51.7 percent of the country's total population, exceeding the global average by 3.1 percent, according to a report released by China Internet Network Information Center (CNNIC) on August 3.
As internet penetration level keeps rising, some trends in internet development are visible, according to a report by 199it.com. Here are the top 10 trends.
Trend 1: The group of phubbers is expanding
Phubbers are people who engage in phubbing, "the act of snubbing someone in a social setting by looking at a phone instead of paying attention".
The number of people using their mobile phones to surf the internet reached 656 million, increasing from 90.1 percent of the total internet users at the end of last year to 92.5 percent as of June.
In addition, people surfing the internet only via mobile phones account for 24.5 percent of the total internet users.