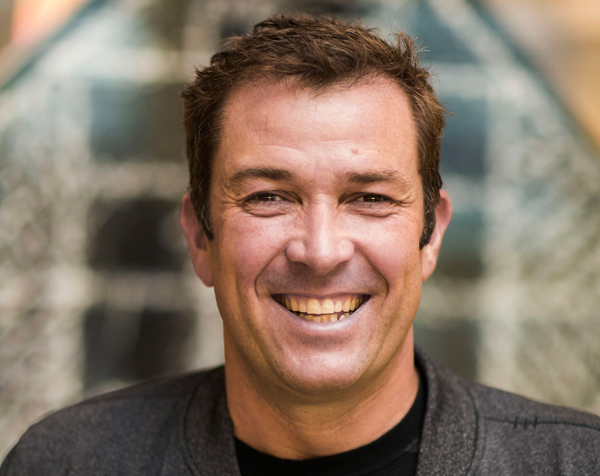 Laurent Potdevin, CEO of Lululemon Athletica. Provided to China Daily
Lululemon Athletica is having a Zen moment. After two tough years, the company known for yoga wear is enjoying a rebound in sales and CEO Laurent Potdevin is optimistic that Lululemon can keep the momentum going.
The company has benefited from the shift in athletic wear becoming everyday fashion. But lots of other brands want part of those sales, from Victoria's Secret to Gap to H&M.
Potdevin has set ambitious goals: to double sales to $4 billion by 2020, push innovation in products like swimwear and menswear, add more stores in North America and catch up in e-commerce. Lululemon, which has nearly 400 stores globally in the US, Europe, Asia, Australia and elsewhere, wants 20 percent to 25 percent of its total sales to come from outside the U.S. by 2020.
The company is going back to taking risks following a major product hitch in 2013 that cost the company millions and sent the stock tumbling. Lululemon recalled thousands of its stretchy black yoga pants after customer complaints that they were too sheer.
Christine Day, who assumed the helm in 2008, announced she was leaving the company and said it was a personal decision. Then, founder Chip Wilson resigned as chairman after suggesting some women's bodies were not made for Lululemon's clothing.
Potdevin, who took the helm in January 2014, has been rebuilding. The company has relaunched its website. Its clothing is now all electronically tagged, allowing Lululemon to better track inventory and shoppers to use the app to check whether items are in stock at a particular store. Lululemon also revamped its store wall of yoga pants with new fabrics and organized them by how they feel - relaxed, naked, hugged, held-in and tight.
Potdevin, wearing a Lululemon white shirt and pants, recently spoke with The Associated Press about where the company is headed. His comments have been edited for length.
There are lots of companies jumping on the 'athleisure' trend. Aren't you worried?
We are in a very unique position at the intersection of function and fashion. Every piece of product starts with function. If it's not functional, we shouldn't do it. And I think that insulates us from other lifestyle apparel brands. When we look at the brand, the people, the product, the global opportunity, the sky is the limit. We have a massive men's business ahead of us. We can grow multiple categories.
What was your priority when you first came on board?
My very first focus was on rebuilding guest loyalty. A big piece of that was quality. The company had grown very, very quickly. The investment had lagged behind the growth. And so for the first year I was focusing on building the engine that would allow us to handle the complexity of the business and to scale the business. So we invested heavily in our office in Hong Kong and our quality department.
How do you view risks now?
Two and half years ago, as a result of the snafus, there was a bit of a cultural fear ... of not trying new things. And today, we went from playing defense to playing offense, and we are launching new things again.
What are some innovations?
The pant wall was the first big move. This is the anchor of our business. It's doing incredibly well.
We are really passionate about an outerwear jacket that is made of one-piece material. So when you think about the outerwear jacket, you have the wind, you have the rain, you've got the snow. So every time you've got a stitch line or seams, it's more material, it's more bulk.
Are you worried about (Republican presidential nominee) Donald Trump talking about ripping up some of the trade agreements?
We have a really strong sourcing base, and it's very diverse. We are not relying on any specific country. We do a lot of business with Sri Lanka. We do a lot of business in Bangladesh, Cambodia, Vietnam and Peru. We do a little business in North America, but it's constrained by capacity. We have couple of projects that are bringing (sourcing) closer to shore.
How do you get inspired?
We've got 1,500 ambassadors around the world. The ambassadors are the local heroes - the triathletes, yogis, runners. They're all around the world. We have the ability to listen at a local level.
What kind of lifestyle do you lead?
I meditate every day in the morning for 20 minutes. I sit on my favorite couch in my den/office space. I have two bikes ... my cruiser that I use to go back and forth to the office and home. That's a 20-minute ride. And then I've got my road bike, and I go with a bunch of guys.
Associated Press