Ford to export more cars, components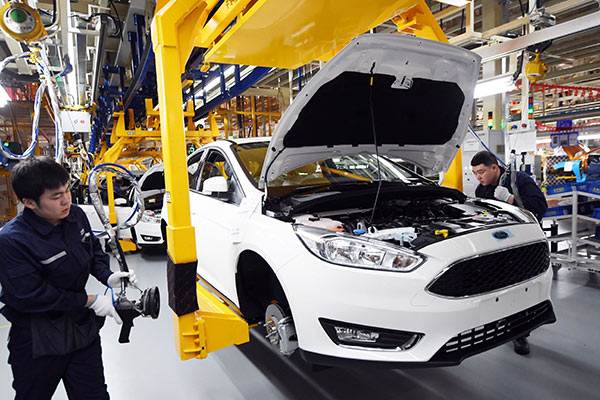 Workers assemble cars at a Changan Ford plant in Harbin, capital of Northeast China's Heilongjiang province.[Photo provided to China Daily]
Ford Motor Company said on Thursday that it would export cars and components worth $10 billion to China over the next three years, a day after the US carmaker inked a deal to produce electric cars in the world's largest car market.
The announcement was made in the presence of Chinese President Xi Jinping and visiting US President Donald Trump in Beijing.
The cars and components, the majority of which will be made in the US and some in Canada, will include Ford's performance cars such as the Mustang and models from its premium brand Lincoln.
"It is a robust sales plan based on the cars we have been selling," Ford Vice-President Peter Fleet told China Daily.
"Our sales in China have been quite stable, and Lincoln is the fastest growing premium brand," said Fleet, who is also head of the carmaker's operations in the Asia-Pacific region.
China will gradually cut the current 25 percent tariff on imported cars, the foreign ministry said in a news release on Thursday. It also said the government will initiate a pilot program before June 2018 that will relax foreign firms' ownership restrictions for new energy and special use vehicle businesses established in free trade zones.
Ford sold 61,743 imported cars in China in the first 10 months of this year, a 60 percent surge year-on-year.
That is less than 7 percent of its total sales in the Chinese market, where it has already localized most of its more popular cars and sports utility vehicles in its existing joint ventures-Changan Ford Automotive and Jiangling Motors Corporation.
Fleet said the Focus sedan made at Changan Ford will be exported to the United States, but he did not give a specific schedule. Ford is also going to build a third joint venture, which will be dedicated to electric cars, after it signed a 5 billion yuan ($755 million) deal on Wednesday with Chinese carmaker Zotye Auto.
Under the 50:50 partnership, Zotye Ford Automobile Co will develop, produce and sell a range of affordable electric cars for consumers in China under a new brand.
The joint venture will build a plant in Zhejiang province with an annual production capacity of 100,000 cars when completed, and establish its own research and development center.
A Zotye statement said the joint venture is aiming for a 10 percent share of China's burgeoning electric car market.
The US carmaker announced earlier this year that at least 70 percent of Ford-branded vehicles sold in China will offer electrified powertrain options by 2025.
"We will be exploring innovative vehicle connectivity and mobility service solutions for a new generation of young city-dwelling Chinese customers," said Fleet.
Zotye Auto is a market leader of small electric cars in China. It sold more than 22,500 all-electric vehicles in the first 10 months this year, up 14 percent year-on-year.
Ford and Zotye will also explore offering mobility services to consumers in China as local demand for such solutions continues to grow.