Ford prepares for new energy credit system
The United States automaker looks at joint venture options to boost production
Ford Motor Co is in talks with at least three Chinese automakers to produce electric cars, in preparation for China's plan to introduce a punitive new energy vehicle credit system to encourage higher production, according to a person familiar with the matter.
Last week, Ford announced that it had signed a memorandum of understanding with China's Zotye Automobile to build a 50-50 joint venture to develop, produce and sell electric passenger cars.
An industry insider close to the matter said the move is primarily to brace Ford for the credit system that is designed to stimulate the development of new energy cars.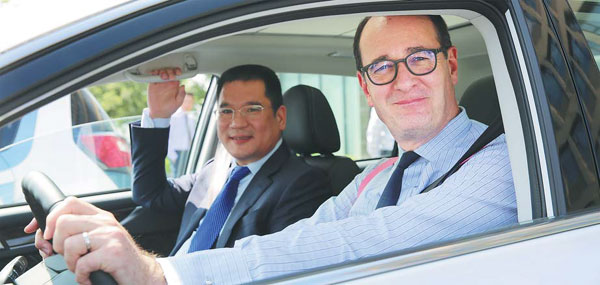 Peter Fleet, president of Ford Motor Asia Pacific, and Jin Zheyong, chairman and president of Zotye Automobile Co, unveil a new chapter in new energy car cooperation. Photos Provided to China Daily
Speaking on condition of anonymity, the source said Ford intended to build such a joint venture with one of its two existing partners, Changan Automobile and Jiangling Motors, but they had not yet reached a consensus over the details.
"In fact they are still in talks, so the memorandum might also serve as a maneuver by Ford, like: 'If you do not work with me, I can readily find another partner.'"
A Ford China spokeswoman said she could neither confirm nor deny the matter, but said the understanding with Zotye will expire if they cannot sign a definitive agreement by the end of the year.
Whoever the final partner is, Ford may have to accelerate its pace, as the authorities have expressed their determination about the credit system.
At a news conference in late July, the Ministry of Industry and Information Technology said the policy, which among others evaluates carmakers' new energy car sales, is undergoing the necessary procedures before promulgation and will be released soon.
As stipulated in a draft - which is widely believed to vary little from the final version - the credits an automaker earns from selling new energy vehicles should account for 8 percent of its total sales in 2018. As one electric car will be calculated as two to five units depending on a number of factors - including their mileage on one charge - that means Ford, even if assessed based on its 2016 sales of 1.27 million cars, will have to sell 20,000 to 50,000 electric cars in 2018.
If Ford fails to do so, it will either have to buy credits from other automakers that have exceeded the 8 percent requirement, or will simply face a fine. The task will become increasingly intimidating, with the percentage growing to 10 percent in 2019 and 12 percent in 2020.
Earlier this year, Ford released an ambitious new energy car plan, saying that 70 percent of all its vehicles sold in China will have electrified powertrain options by 2025. But, it has not yet introduced its new energy cars to China.
That makes Zotye, although infamous for copycatting designs of popular models from Porsche and Land Rover, a reasonable pick.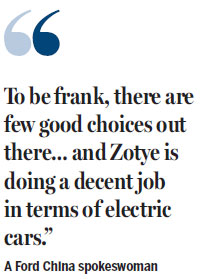 "To be frank, there are few good choices out there... and Zotye is doing a decent job in terms of electric cars," said the Ford China spokeswoman. It was the fifth best-selling electric car seller in China, selling more than 16,000 such vehicles January through July, growth of 56 percent year-on-year.
Yale Zhang, managing director of Shanghai-based consulting firm Automotive Foresight, said he believed that as its job is to produce as many credits as possible, the potential joint venture would very likely produce low-price small electric cars, because they are more likely to attract buyers after the government cuts its current subsidies policy for such vehicles.
Ford would not be the first international carmaker to do so. German carmaker Volkswagen signed a memorandum of understanding with JAC Motors in September to produce electric cars.
A final contract was signed in May, in which it is stipulated that Volkswagen will enjoy the priority if it needs to buy credits from the joint venture.
The 50-50 partnership's first model is expected to roll off the assembly line in 2018. Similar to the small electric vehicles Ford is likely to produce, it will not bear a Volkswagen logo. Daimler has also signed an agreement with its current partner China's BAIC Group to produce Mercedes-Benz-branded electric cars by 2020 via their joint venture Beijing Benz Automotive.
It is almost certain that more such partnerships will emerge, but some argue too many of them may not be good for China's fl edging new energy sector, which the authorities hope to take the lead worldwide within 10 years.
In a commentary, the magazine Automotive Business Review said one or two such ventures could produce the catfish effect, forcing local car manufacturers to better themselves, but what if there suddenly come a shoal of catfish?
China has been the largest and also the fastest-growing market in the world for new energy vehicles since 2015. Statistics from the China Association of Automobile Manufacturers show that 250,000 such cars were sold from January to July, 21.5 percent growth year-on-year.
lifusheng@chinadaily.com.cn
(China Daily 08/28/2017 page18)
Today's Top News
Editor's picks
Most Viewed