Ford restarts India SUV partnerships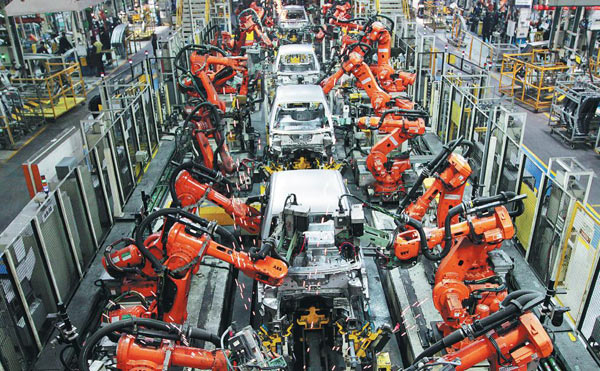 Cars are assembled at a Ford India plant in Chengalpattu, on the outskirts of Chennai, India. [Photo/Agencies]
Automaker rekindles agreement with Mahindra & Mahindra to step up lagging operations in expanding local market
Ford Motor, looking to give its lagging Indian operations a boost, has rekindled a partnership with local SUV-maker Mahindra & Mahindra that executives hope will put it in the fast lane to sustained profitability in the expanding market.
Ford and Mahindra have formed a partnership for three years to cooperate in areas including electric cars, connected vehicles and distribution within India, which is set to become the world's third-biggest car market.
The work begins later this week when teams from Ford and Mahindra will meet to discuss ways to jointly improve parts purchasing and cost cuts, Peter Fleet, head of Ford's Asia Pacific operations, said in an interview.
"There is an immediacy to this," Fleet said. "What can we do with real urgency to improve our business here in India as a result of this collaboration?"
The partnership is an about-face for Ford after previous CEO Mark Fields put the business in India under review.
Jim Hackett, who became CEO after Ford's board ousted Fields in May, found a way to stay in India while sharing costs with an automaker that Ford has worked with before. The two companies parted ways in 2005 from a venture that mostly made sedans.
The India plan is one of the most significant Ford has made in the first four months under Hackett, who had said he would conduct a 100-day review of Ford's business.
The former CEO of office-furniture maker Steelcase Inc is scheduled to lay out his strategy to investors on Oct 3 in New York.
Collaboration scope
Every area of the business-selling SUVs, developing electric cars, coming up with new mobility methods like autonomous autos-will be examined by both companies for ways to collaborate and boost profit, said Jim Farley, Ford's president of global markets.
"When you look at Mahindra's success in India and their profitable business here, there's a lot to learn from them," Farley said in an interview from the southern city of Chennai. "And for a company like Mahindra, Ford has expertise technically and also distribution networks in other emerging markets that could be beneficial to them."
Ford re-entered India in the mid 1990s, when the country opened its car market for foreign investment, by partnering with Mahindra. The two companies set up a factory near Chennai and started making the Escort sedan.
The Ikon, Fusion, Fiesta, Figo and other models followed, but the Dearborn, Michigan-based carmaker lagged behind companies including Suzuki Motor Corp and Hyundai Motor Co in India. Ford and Mahindra ended their partnership in 2005.
Ford's market share in India was 3 percent while Mahindra had about 7.8 percent in the financial year ended March 2017, according to the Society of Indian Automobile Manufacturers. Suzuki led with 47 percent share and Hyundai ranked second with 16.7 percent. In May, GM announced it was stopping sales in the Indian market.
While Ford shares have risen modestly since the company changed CEOs, the stock is still down 3.8 percent this year, trailing GM and the benchmark Standard & Poor's 500 Index.
Asia growth
The first major decision Ford announced after Hackett, 62, became CEO also involved the automaker's operations in Asia.
In June, the company scrapped a controversial plan to move production of Focus compact cars from Michigan to Mexico. Ford will instead export the Focus from an existing factory in China to North America, forgoing a $500 million investment.
Ford earned pretax profits of $143 million in Asia-Pacific region in the second quarter, up $151 million from a year earlier.
The company's gains in the region came from growing sales and market share in China, especially of its SUVs and Lincoln luxury models. The automaker said it expected profits to continue to grow in the region this year.
A flood of new models are slated to enter India over the next five years, intensifying competition in the country's $30 billion auto market, which is expected to rank behind only China and the US in sales by 2020, the Indian automakers association said earlier this month.
"We certainly see, in the near term, opportunities for us to improve our business results and make our business stronger and that's our intention as a team with this," Farley said. "We see a lot more opportunity in terms of our financial performance in the near term. This will be a key part of achieving those."
BLOOMBERG