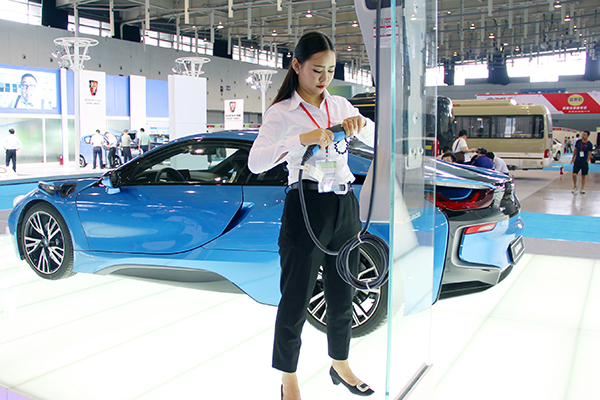 An exhibitor prepares a charger for a new energy car at an energy conservation and new energy auto show in Nanjing, Jiangsu province, on Sept 7. [Photo/China Daily]
Government hopes to streamline the electric auto market with updated policies
Industry experts are calling for the authorities to cut subsidies for China's new energy vehicle industry following the discovery of five dishonest automakers swindling more than 1 billion yuan ($149.9 million) in government subsidies in 2015.
Yang Yusheng, a member of the Chinese Academy of Sciences who specializes in batteries, said abnormally bountiful subsidies bring more harm than good.
"Carmakers start to produce vehicles that will bring most subsidies. Obsessed with the subsidies, they have no intention to think about what the market really needs," said Yang at a recent forum in Beijing.
China's latest policy stipulates that in 2016, one electric bus is entitled to up to 400,000 yuan in subsidies-one fourth lower than the previous version, yet almost enough to cover the cost of its production.
For passenger cars, one electric car is eligible for 55,000 yuan and one plug-in hybrid, 30,000 yuan from the central government in 2016. Local government subsidies vary by region.
The central government started offering subsidies to stimulate the production of new energy vehicles in 2009, and 33.4 billion yuan had been earmarked as of the end of 2015, said the finance ministry.
"The unduly high subsidies have lured some Chinese automakers to develop bad habits: they pursue money; they rely heavily on subsidies; and they are short-sighted in terms of their development," Yang said.
Late last month, Song Qiuling, a finance ministry official, said at a forum on new energy vehicles that it is considering raising the threshold at which carmakers qualify to receive subsidies from the central government.
China has about 200 manufacturers of new energy passenger vehicles, buses and special-use vehicles, but they lag behind global leaders in terms of quality, reliability and technology, said a report from the National Development and Reform Commission, the top economic planner.
The road ahead
The central government has worked out a plan to cut the subsidies in 2017 and stop them by the end of 2020, hoping that the sector can fend for itself in the market by then.
Last year, China sold 330,000 new energy vehicles. From January to August 2016, 245,000 new energy vehicles were sold, more than double the number of the same period last year.
Yang welcomed the move, saying favorable industrial policies should be temporary in nature.
"It is like when a mother stops breastfeeding her baby. Both of them should try their best to adapt to the change, especially the baby."
Several new energy vehicle makers said at a forum organized by ifeng.com that they are trying their best to brace for the gradual withdrawal of the financial incentives.
Yang Jiabiao, a senior executive of BAIC Motor's new energy vehicle arm, said the absence of the subsidies will affect his company "a lot", so it has come up with technical and marketing solutions to offset its effects.
He said the company, which is dedicated to electric cars, introduced the sector's first ever trade-in scheme earlier last month to increase its customer base and enhance their confidence in new energy vehicles.
Denza, a joint venture between BYD and Daimler, believes the sector-expected to sell 500,000 cars this year-will be able to develop by itself, but calls for a continuation of policies other than financial stimuli to boost its development.
China has been contemplating introducing a credit scheme to encourage automakers to improve new energy car quality and reliability.
Yan Chen, Denza's CEO, said: "We see one step downward in 2017, which cuts subsidies by 20 percent, and another one in 2019. Clear follow-up policies are critical to a company's draft of development plans."
SAIC Motor, the largest automaker by sales in China, believes that technology is the key to ensuring new energy vehicles' competitiveness when there are no subsidies.
Zhu Jun, vice-director of the automaker's technology center, said currently one degree of electricity (one kilowatt hour) is enough to power the car for six kilometers. Zhu believes it will attract more people if the mileage can increase to 10 kilometers.
"It would be a great technological breakthrough and it is more important than the price of batteries being halved," said Zhu.
Zhu said the sector will not be considered really competitive until taxi drivers are willing to purchase new energy cars, as they always choose "well-built and economical vehicles".
Currently, new energy vehicles account for some 1.5 percent of the passenger car market and Zhu expects the figure to stand at 10 percent by 2025.
"That will be a great job, if we can make it," said Zhu.