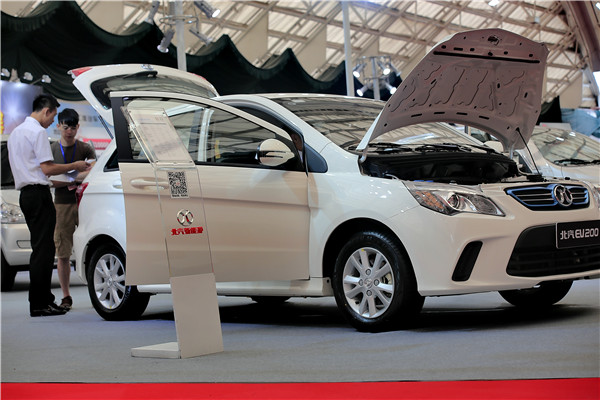 A BAIC Motor new-energy car is on display at an auto show in Guangzhou last August.LIU JIAO/CHINA DAILY
Many automakers funneling funds into rolling out new-energy cars in next five years
If the future automotive industry is a cart pulled by autonomous driving, connectivity and new-energy vehicles, the last is going a step faster in the current leg of the journey, as evidenced by plans from major State-owned Chinese automakers in the next five years.
SAIC Motor, China's largest automaker by volume, will invest at least 20 billion yuan ($3.1 billion) in new-energy vehicles from 2016 to 2020, according to its plan released during the recently concluded Beijing auto show.
The plan said it will expand its lineup with more than 30 NEVs in five years, including both electric ones and plug-in hybrids, with their annual sales exceeding 600,000 units a year by the end of 2020.
SAIC Vice-President Wang Xiaoqiu said the automaker's top priority is developing new-energy vehicles because NEVs will become mainstream in the automotive industry by 2025.
The automaker started its emphasis on new-energy vehicles years ago. It sold more than 11,000 such cars in 2015, tripling sales from the previous year, but still a drop in the ocean compared with its total auto sales of 5.9 million units in 2015.
Such cars are playing a more important role in FAW's portfolio. The automaker said it will come up with 19 new-energy vehicles in five years, accounting for 38 percent of all new models planned for the period.
It has set a goal to join the ranks of the country's top-notch new-energy vehicle players by seizing a 15 percent market share by 2020.
Dongfeng Motor aims to grab a 15 percent to 18 percent share of the new-energy vehicle market by 2020, according to its plan.
It expects sales of such cars to reach 300,000 units by 2020, roughly 6 percent of its total estimated sales of 5 million units for the year.
Chongqing-based Changan Automobile will earmark 18 billion yuan to produce 34 new-energy models in 10 years and expects their sales to reach 400,000 units by 2020, said Vice-President Li Wei.
Yuan Mingxue, another vice-president at Changan Automobile, said the automaker plans to make a breakthrough with its new-energy products including both electric cars and plug-in hybrids.
"We have set a goal to reach by 2025: Our electric cars must finish the zero to 100 km/h sprint in five seconds, our plug-in hybrids must have comprehensive fuel consumption of 1 liter/100 km, and per ton of our electric cars will use no more than 8 degrees (kilowatt hours) of electricity per 100 km," said Yuan at a forum in Beijing on April 21.
BAIC Motor, which primarily focuses on electric cars, will continue its emphasis on new-energy vehicles. It hopes its sales of such cars will reach half a million units by 2020.
The automaker has set up a subsidiary dedicated to such cars. In 2015, it sold more than 20,000 electric cars, ranking first in China and fourth globally.
Experts say automakers are expected to hit two birds with one stone.
In the short term, the rise in the number of new-energy vehicles in their portfolios will help those automakers meet China's requirements of passenger cars' fuel consumption of five liters per 100 km.
More importantly, they are sharpening their competitive edge as such cars will replace gas-powered cars eventually, said experts.
New-energy vehicles are gaining momentum in the country. Statistics from the China Association of Automobile Manufacturers show that 58,125 units were sold in the first quarter of 2016, double the number sold in the same period last year.
Traffic authorities in Beijing said that nearly half of the city's license plate quota for electric cars for 2016 were used up by the end of April, indicating local residents' growing acceptance of new-energy vehicles.
Li Shiqiang, a Uber driver in the capital, said it is easier to have his electric car, the BAIC EV200, charged than before.
Finding a charging post is not a big problem anymore, he said, but a new headache is that sometimes people have to wait in line as there are more and more electric car owners.
lifusheng@chinadaily.com.cn