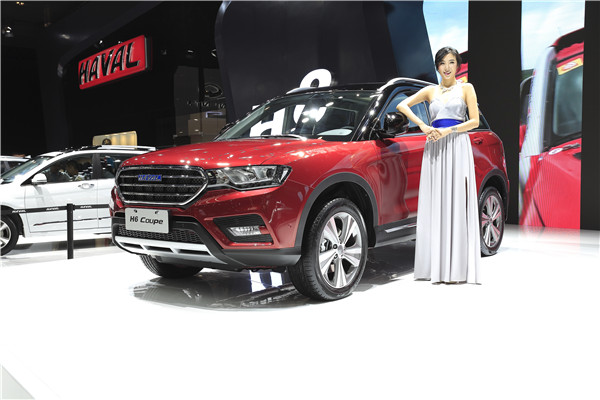 The Great Wall Haval H6 is displayed at the Chengdu auto show last year. The Great Wall Motor Co Ltd topped the Chinese automakers with its 4.5 percent rise in net profi t for the first half of this year.CHINA DAILY
Carmakers pursue higher margins amid slowing sedan sales
Chinese carmakers lead in the fast-growing sport utility vehicles segment, while the joint venture car brands grabbed sustainable profits amid intensified competition in the non-luxury sedan and emerging margin erosion risk.
State-owned brands have benefi ted more from the rising popularity of SUVs, especially due to their dominance in the low-end segment, despite many having high product and model concentration risk.
State-owned carmaking giants, including SAIC Group, BAIC Motor and GAC Motor, narrowed their losses or posted profits in the first half, owing to strong sales of their SUV models, according to their interim reports filed to the country's stock exchanges. BAIC Motor's passenger car business turned black in the first six months, thanks to its SUV models expanding the volume contribution to 48 percent from last year's 7 percent.
Securities analysts told China Daily that "SUV models brought the carmakers up to 20 percent more revenue than sedans."
The analysts remarked that "an SUV does not necessarily cost significantly more than a sedan in production, nor provides extra functions. The price of an SUV is much higher than a sedan built on the same platform."
A Fitch Ratings Inc's report said the SOE auto groups will not be affected by near-term market share volatility, whose diversified brand and product portfolios ensure stable operations and sustained cash dividend payments over the future one or two years.
The New York based rating company also found that SOE auto groups' joint ventures with global automakers are likely to enjoy resiliently higher profitability, as they persisted in shifting their product mix toward the higher-margin SUV segment and have diversified product portfolios to smooth out single product and model volatilities.
Nearly every joint venture has entered SUV segment, some even producing only those higher-profitability models.
SUVs accounted for approximately 67 percent of Sino-Japanese Dongfeng Honda Automobile Co's firsthalf sales, far exceeding the sedans in terms of growth and profi tability.
FAW-Volkswagen Automobile Co, a Sino-German joint venture, used to focus on sedans. They recently confirmed plans to launch "a competitive SUV model" in 2017, and at least two more in the near future. Wuhan-based Sino-French joint venture Dongfeng Renault Automobile Co is locally manufacturing only one SUV model, and another two are in the localization blueprint.
Fierce price competition has pressured margins in the sedan segment. The more non-luxury sedans sold, the more losses the carmaker would suf er. Fitch Ratings found SAIC Volkswagen Automotive Co, currently selling only two SUV models, suf ered a 21-percent drop in net profi t in the first half this year from the same period last year, and attributed the loss to severe price cuts on its sedan models to maintain a fl at sales volume.
Having more diversified product portfolios has helped joint ventures to smoothen out profi t volatilities in certain models, while more cost-effective component sourcing has allowed them to cut sedan prices without severe margin sacrifice, according to Fitch Ratings.
The report pointed out that because the Haval H6 and H6 Coupe accounted for 60 percent of the sales volume of Great Wall Motor Co Ltd, the privately owned SUV maker is susceptible to product fade-out risk and margin erosion.
The Great Wall Motor topped the listed Chinese auto makers with its 4.5 percent rise in net profi t for the first half of this year. Industrial data showed that Chinese Great Wall Haval H6 SUV's 40,600-unit sales volume was second only to Wuling Hongguan, a low-price multipurpose vehicle, in the first eight months of the year, allowing the company to maintain its dominant position among all passenger cars on the Chinese market.
However, analysts predicted the profitability of the SUV segment could decrease in the long run, while more and more carmakers are making crossover models by elevating the chassis of their sedans.
"In the future, the profi tability in SUVs should shrink to the normal 3 to 5 percent, as the now-popular products will finally saturate the segment. But in the short term, the SUV heat may sustain, as there is still a large amount of demand to feed."