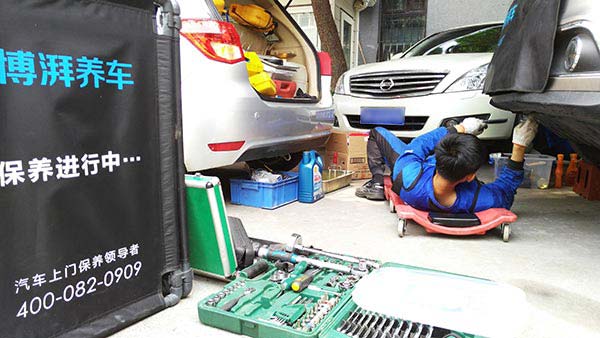 An engineer for Bopai (Beijing) Automotive Technology Service, which recently closed its office in the Chinese capital, repairs a car in July. [Provided to China Daily]
Company among many closing up shop, although new players are emphasizing quality service
A number of Chinese companies have quit the cutthroat online auto services market due to financial failures.
According to a China Business News report on Dec 16, the main office for Bopai (Beijing) Automotive Technology Service Co's in Beijing has closed.
Its three major investors-JD.com, the popular Chinese online marketplace; BitAuto, a provider of Internet content and services for China's auto industry; and Innovation Works, the venture capital fund established by Lee Kai-fu-had no comment or would not accept requests for an interview.
Bopai is an online provider for auto maintenance services and was valued at about $600 million in March after it received $18 million in Series B funds from JD, BitAuto and Innovation Works.
The shutdown of Bopai follows the shuttering of several online companies that provide car-washing services, such as E Car Wash, Easy Car Wash and Kungfu Car Wash in October as well as Cloud Car Wash and Car8 earlier this year.
"Bopai was fast in expanding to cities, but was slow in expanding its fleet of cars. Its response times and breadth of service experience had not improved over the company's development," said Zhou Xin, analyst at IResearch Consulting Group.
Customers value expertise in maintaining vehicles and a company's quality of equipment more than getting a bargain price, Zhou said.
The company just opened a number of brick-and-mortar maintenance shops to conduct paint and sheet-metal part jobs.
But the company's offline shops quickly burned through its funds, according to news reports, and it wasn't able to secure Series C round funds.
"The Internet makes the market transparent, and online-to-offline companies … offered discounted maintenance services, even 1-yuan (15-cent) car washes, to customers but expected them to purchase the company's other products and services," Zhou said.
"Many customers are not sensitive to prices. A service that is 100 yuan cheaper won't make them switch from the shops that they regularly visit. Price-sensitive customers do not stick to one company. They switch among O2O service providers for bargains."
Burgeoning market
Despite the recent turbulence in the industry, there are new players eager to enter the O2O auto services market. In April, Alibaba set up its automobile division with an O2O auto services business.
Guangzhou Automobile Group and Uber inked a deal on Dec 22 to establish a division that will sell vehicles and establish after-sales services.
Zhejiang Wanfeng Auto Wheel Co established a joint venture on Dec 15 with Tuhu.cn, the nation's largest auto services platform by volume.
"The Chinese aftermarket has a significant gap between customers' confidence and independent shops' credibility. We expect to tackle this problem with universal branding and consistent standards" said Chen Min, CEO of Tuhu. "We need to help customers learn about auto parts and show them we are using high-quality products through standardized services. We can help customers save not only on money, but also on their worries."
Liu Erhai, a founding partner of Joy Capital, said China's Internet sector is different from in the United States, where conventional industries were first established. China's new technology industry is joining the development of conventional industries, so "there is a hybrid structure".
"The Internet companies are experiencing a process of exploring and learning."
Wang Xia, president of the automotive committee under the China Council for the Promotion of International Trade, said, "Chinese Internet companies have their strength in integrating resources and the capability in thoroughly planning for a new product.
"China's Internet sector, …the popularity of mobile Internet and the scale of e-commerce is leading the world. The nation's auto industry and Internet sector are both playing a decisive role globally," Wang added.
By the end of 2014, China had 117 million passenger cars. It had 668 million netizens by July of this year. According to industry data, the value of the country's after-sales auto market expanded to 600 billion yuan by 2014, 30 percent larger than in 2013. IResearch estimated that the value of the auto maintenance market may jump 26.4 percent this year to 540.8 billion yuan.
Short of funds
Despite a total investment of 6.5 billion yuan in the online auto maintenance market over the first six months of the year, the winter of funding has already come after the Chinese stock market plunged in June.
"O2O players who are still alive have shifted their philosophies-they are now rarely offering cheap deals-because their operations won't allow for it," said Zhou.
According to industry researchers, one factor that is altering business operations is the higher cost per order for Internet companies compared to brick-and-mortar shops. Though Internet companies do not need to rent a location for a workshop, they must have cars on hand for mechanics to carry their equipment to client locations. What's more, prices are much too low to cover expenses.
An unnamed former executive of Bopai said the company planned to lower costs by expanding its scale.
Bopai claimed it had a team of mechanics larger than 1,400 and a fleet of more than 400 cars in 22 cities. It had been paying more than 6 million yuan in salaries monthly.
"Internet companies are exploring to a large extent. They are not making money in the early stages, but are heavily relying on the support of capital markets."