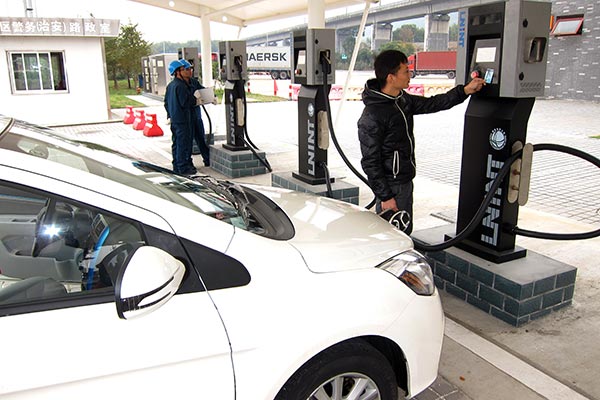 Charging facilities at a service station in a highway in Zhejiang. State Grid said it will have completed the construction of such facilities in 35 service stations in the province by the end of this year. [Photo/Xinhua]
Despite the rocketing growth of electric vehicle ownership in China in the past two years, the lack of a matched boost in charging facilities and power supply have become a bottleneck restricting the future development of the industry.
Authorities have made several moves recently to solve the problem, such as providing high incentives to stimulate the expansion of charging facilities.
On Thursday, the Beijing development and reform commission, the city's planning body, said it would install 5,000 public charging posts in the city next year. The city pledges to have one charging station serving each area of five square kilometers in 2017.
Earlier this month, the country's electricity giant also plugged in to help.
State Grid, the largest electrical power supplier in China, announced it would speed up the construction of electric car charging facilities on expressways and in cities throughout the country.
The State-owned company will install charging facilities on the country's 11 main highways, including the Beijing-Shanghai, Shenyang-Haikou, Daqing-Guangzhou and Beijing-Hong Kong-Macao routes.
It plans to establish a nationwide e-car charging network on the highways of Beijing, Tianjin, Hebei province, Shandong province, and all the cities in Yangtze River Delta region, as well as in key cities in other areas.
State Grid has set a goal of building 10,000 fast charging stations and 120,000 charging posts covering 202 cities and 36,000 kilometers' highways by 2020-when the country hopes to have at least 5 million new-energy vehicles on the roads.
In October, the National Energy Administration established an alliance to promote the building of charging facilities. At the launch, industry insiders talked about how to solve the associated problems, such as standardizing charging stations and handling payments.
In the same month, the State Council, China's cabinet, issued a directive to accelerate the construction of charging facilities. It requires all newly built residential properties to install charging posts in their parking lots or have the equipment in place to do so easily.
It also plans to build an intercity fast-charging network to cover China's biggest cities by 2020.
At the beginning of the year, State Grid cooperated with ZTE, China's leading high-tech communication systems and devices manufacturer, to offer wireless charging equipment, services and a platform for electric vehicles.
The two created a joint venture in Chengdu, Sichuan province, in January, aimed to build several self-service charging stations in the area, so as to lower the running cost of charging facilities.
Sun Zhenge, vice-president of ZTE Corporation, was quoted by several media as saying the company has signed contracts with more than a dozen city governments to provide wireless charging facilities.
In addition to local companies, foreign entities are also interested in entering the market, believing that the market has great potential to grow.
Ubitricity, a Germany-based EV charging infrastructure technology company, offers charging services to e-car users and allows them to charge their cars directly from streetlights.
The company has developed and started its service in Berlin since the end of 2013. It's business pattern is turning streetlights into charging posts with its smart EV charging cables, which consist of an intelligent box that delivers both Internet and smart metering.
The company's charging facility has three parts: a socket, smart cable and connectivity manager.
The business idea of refitting streetlights into charging posts makes building such facilities cheaper than custom-built charging facilities. The company intends to bring this idea to China.
"Now, we get more and more inquiries from potential Chinese partners," said Knut Hechtfischer, the founder of Ubitricity, "We are now preparing to market the technology in China and are actively evaluating partnership opportunities-in particular in the energy sector to start a Mobile Metering pilot in China early next year."