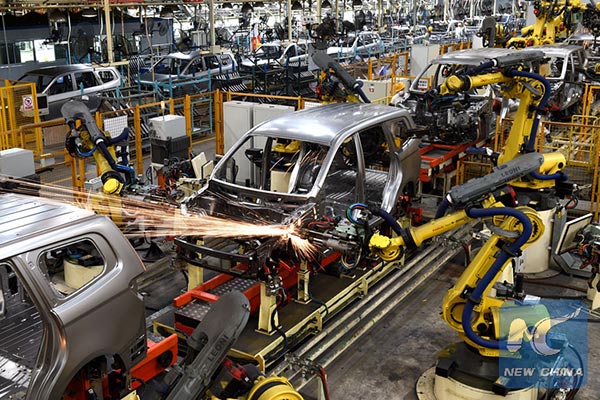 Industrial robots are used for welding vehicle bodies at Liuxin Auto Stamping Co Ltd in Liuzhou, Southwest China's Guangxi Zhuang autonomous region, Nov 18, 2015.[Photo/Xinhua]
BEIJING - Eliminating industrial overcapacity will be a painful process for China, but will not cause huge unemployment, an official said on Saturday.
"Structural reform, especially cutting overcapacity, will inevitably affect the employment status and income of some people, but that's a step we have to take," said Yang Weimin, deputy director of the Office of the Central Leading Group on Finance and Economic Affairs.
A mature support mechanism must be in place to ensure social stability, and by doing that, there won't be mass unemployment, Yang said at a meeting on China's economy for the 2015-2016 period, which was attended by government officials, think tanks, and entrepreneurs.
Cutting industrial overcapacity was listed as one of the five major economic work tasks at the recent Central Economic Work Conference, and was considered one of the key measures of the so-called "supply-side" reform.
China's past economic stimulus, which focused more on the "demand side," has left many factories with a supply glut, which drags the overall economy. Steel and coal companies, many of which are State-owned, are among the most badly hit.
Officials are determined to tackle the problem instead of simply bailing out the firms. Conditions for execution of bankruptcy procedures based on market rules will be created, and more exit strategies for underperforming businesses will be improved, according to a statement released after the work conference.
Restructuring rather than bankruptcy will be the major way for "zombie companies" to exit and minimize their negative impact, said Feng Fei, vice minister of the Ministry of Industry and Information Technology (MIIT) at the meeting.