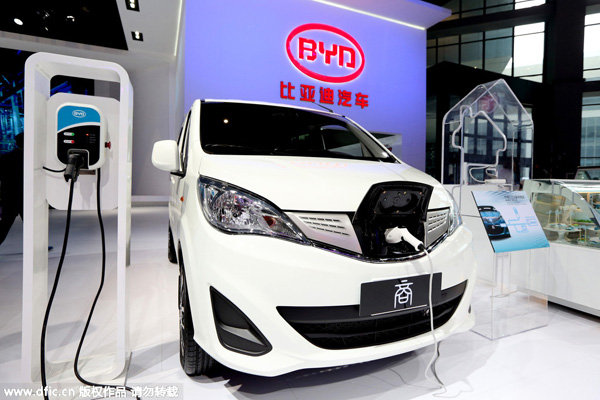 BYD's new energy vehicle is displayed during the 2015 Shanghai International Automobile Industry Exhibition. [Photo/IC]
LOS ANGELES - China's leading battery maker and electric vehicle producer BYD Motors Inc has won an order for 60 pure electric transit buses from a US mass-transit operator, which is the biggest order for a pure electric bus in the United States, the company said on Monday.
"Positive energy will always win! Finally we won Long Beach Transit award again - the only difference is that now is 60 instead of 20! Cheers!" Stella Li, president of BYD Motors and senior vice president of BYD Company Limited, posted on Moments feature of Tencent's WeChat.
The Long Beach Transit Board of Directors on Monday awarded an $11.7 million contract to Los Angeles-based BYD Motors Inc to manufacture 10 battery-powered electric buses and charging systems.
The transit authority, which serves portions of the Los Angeles metropolitan area, will order 10 battery-powered buses with options for its partner agencies to buy as many as 50 more.
"The Long Beach Transit Board made a historic decision today that will not only benefit our customers, but will also be a win for the community," Long Beach Transit CEO Kenneth McDonad said in a statement.
The buses will be zero-emission, McDonald said, adding that they will be "the cleanest bus we have offered to date" and on the "leading edge of technology in the industry."
According to BYD Motors, over the next 5 years, the implementation of 60 BYD electric buses could save Southern California from 124,757,730 lbs of carbon emissions. To manage these equivalent emissions, it would take the planting of 525,691.48 trees, or foresting an area the size of 365 football fields.
Additionally, 60 electric buses operating 150 miles each day, 365 days a year could save operators and Southern California municipalities more than $15 million in diesel fuel over the next five years.
Over the next 10 years, Long Beach Transit expects to be at least 90 percent alternatively fueled, Kevin Lee, a spokesman for Long Beach Transit told media.