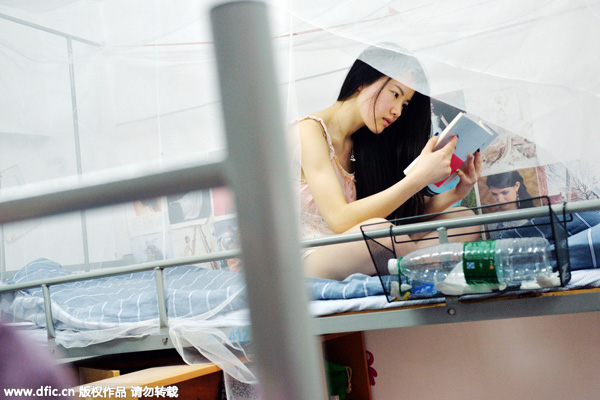 Yu reads a book about investment in her dormitory in Wuhan, Central China's Hubei province, April 17, 2015. [Photo/IC]
Well-educated yet inexperienced young Chinese are betting on stock market to make money.
Yu, a "post-90s"college student, has invested 10,000 yuan ($1,611) in the stock market this year after she was encouraged by her parents.
The investment money mainly comes from her living expenses that she receives from her parents. Before buying stocks, she usually asks her parents for advice as they have eight years experience of investing in the stock market
Yu is accustomed to taking notes when she browses the financial and political news of the day. She is pretty bullish on Internet related stocks, such as e-banking, e-commerce and online media companies.
If she blindly follows other investors and buys speculative stocks, the money could potentially be locked, she said.
Learning and observing are the necessary preparations to invest in the stock market, Yu said. Steady investment on the stock market is a good option for college students, she added.