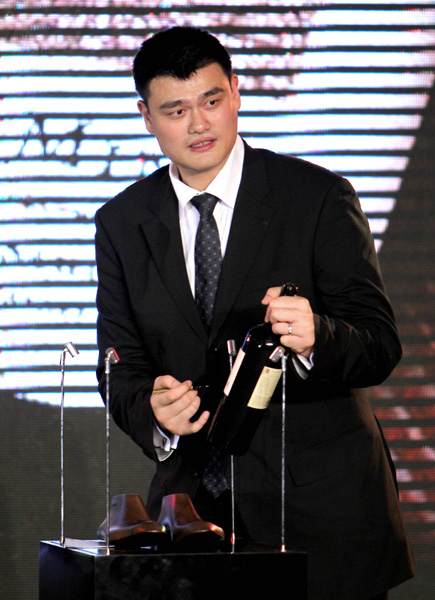 Yao Ming introduces the Yao Family Wines at a charity auction in Shanghai. Fifteen percent of the company's revenue now comes from the United States. [Photo/Xinhua]
Former National Basketball Association star Yao Ming is within reach of his goal to get $3 million from crowdfunding to expand his wine business.
Yao Family Wines started the financing campaign on March 2. The proceeds will go to build a visitor center in Napa Valley, California and a tasting room in Yao's hometown of Shanghai.
As of Wednesday, Yao had commitments for more than $2.77 million, or 93 percent of his goal, according to Crowdfunder, the website used by entrepreneurs to raise public funding.
"Yao has a good chance of achieving his crowdfunding goal of $3 million," said Dong Guanghua, group account director of New York-based global market research firm Millward Brown.
"The chances are as good as his impressive free-throw percentage," Dong said. Among the players with at least 1,000 free throws made, Yao ranked second among 7-footers at 83.3 percent.
Jay Behmke, managing director at Yao Family Wines, was quoted by The Wall Street Journal as saying the company would increase the offering to $5 million if investors showed strong interest.
Yao Family Wines said that only citizens and permanent residents of the United States can take part in the funding drive. Investors can pledge anywhere from $5,000 to $25,000, in return for which they will be invited to exclusive events and private dinners.
The winery was co-founded by Yao in 2011.
Dong said that China's anti-corruption campaign and its cooling luxury wine market prompted Yao Family Wines, the biggest seller of high-end California wine in China, to shift its attention to the US market.
"The anti-corruption campaign has sapped demand for expensive wines," Dong said, especially for those priced at more than 1,000 yuan ($161) per bottle.
According to Yao Family Wines, 15 percent of its revenue now comes from the US, compared with almost zero when it was established.
Yao Family Wines' previous offerings, all reds, cost from about 1,500 yuan a bottle for Yao Ming Napa Valley to 6,000 yuan for its premium Yao Ming Family Reserve.