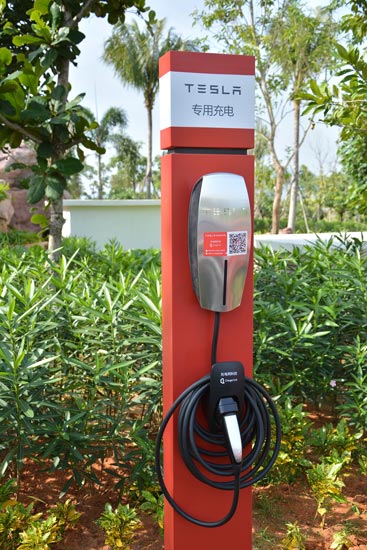 A charging station for Tesla is seen at Shangri-La's Sanya Resort in Hainan, Dec 2, 2014. [Photo / chinadaily.com.cn] 
Shangri-La's Sanya Resort has unveiled three charging stations for the electric car Tesla, becoming the first place on Hainan Island to install them.
Guests of the hotel can use the complimentary chargers, which went into operation on Nov 24. An hour of charging will support up to 100 kilometers (62 miles) of driving.
"We are proud to be at the forefront of this environmentally responsible initiative, and we will continue to invest efforts toward making a greener community. This is just the first step of many that we plan on doing to do our part in leaving a green footprint," said Dexter Cheng, general manager of the resort on Haitang Bay in the southern part of Hainan Island, which opened in September.
It was also the first resort in Sanya to use a paperless check-in and check-out system. The resort participates in group-wide eco-friendly initiatives, including active recycling, using biodegradable packaging for all of its toiletries and using environmentally friendly supply chains for printing and new high-tech energy-saving resources.