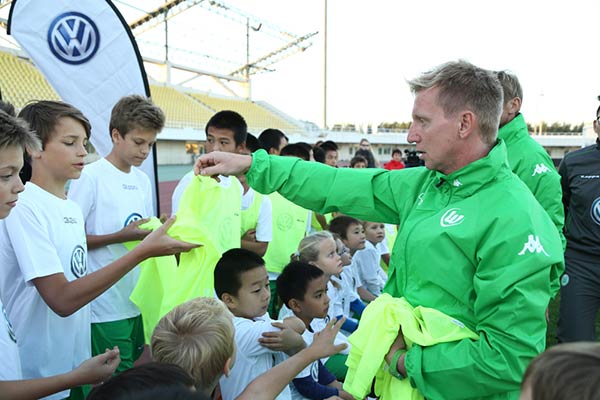 Roy Präger, the former star football player and the current head of Youth Football School with VfL Wolfsburg, hands over jerseys to young players before the training session in Beijing, Oct 15, 2014. [Photo provided to chinadaily.com.cn]
Group of children with black hair and sporting green jerseys with Volkswagen logo played football with some blond youths in Beijing on Wednesday. Among them, several adults with brown hair gave instructions in German that a Chinese kept interpreting.
The guy with blond hair giving instructions in German was Germany Wolfsburg Football School head Roy Präger. Seven coaches from Wolfsburg were invited by Volkswagen Group China to Chaoyang Sports Center in Beijing to give top-notch and international quality football training.
Jochem Heizmann, president and CEO of Volkswagen Group China, kicked off the training session in Beijing.
"This is the start today. Soccer is a team sport. The spirit involved in this sport and in other areas is what we want to promote," said Heizmann.
The training was provided by a group of seven coaches from Wolfsburg, headed by Roy Präger, the former star football player and the current head of Youth Football School with VfL Wolfsburg.
One of the highlights of the carmaker's support to youth football was teaching 42 young players, whose age ranged from six to 13, from China and Germany about team spirit and precision, quality and passion, fascination and persistence.
Promote football in China
"We will continue this program in Shanghai and Changchun. Our intention is to promote and help the young people play better soccer. This is the basis of our efforts to promote soccer in China," said Heizmann.
"We can see the great passion that Chinese football fans have and we want to educate not only on the professional field but also on the football field," he added.
The training series will involve 400 young boys and girls. After the session in Beijing on Oct 15 and 16, the German coaches will continue to provide two-day training in Shanghai and Changchun, Jilin province, starting from Oct 17 until 20, with the support of FAW-Volkswagen and Shanghai Volkswagen.
Referring to the training program, Heizmann said: "We will continue with the Rainbow Bridge program to support youth sports, especially soccer."
It is a follow-up of a Chinese junior football camp in Germany, which was also sponsored by Volkswagen in March, when 20 junior football players and their coaches from China received professional training from VfL Wolfsburg in Germany. It is part of the Rainbow Bridge Project sponsored by Volkswagen that includes sponsorship of men's and women's junior football teams in Zhidan,Shaanxi province, Hong'an, Hubei province, and Jinggangshan, Jiangxi province.
"Our next step will be to carry out such training and education programs in all locations wherever Volkswagen is," said Heizmann.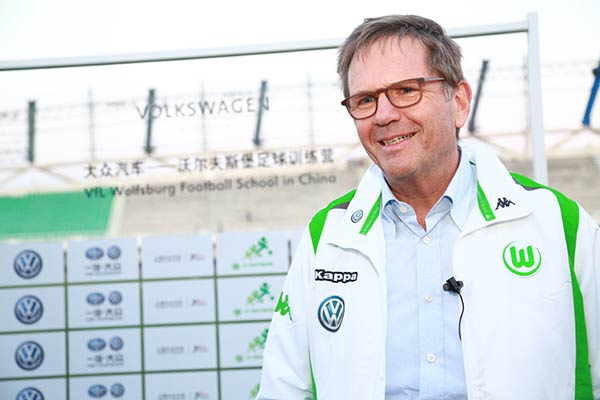 Jochem Heizmann, president and CEO of Volkswagen Group China, gives an interview after kicking off the football training session in Beijing, Oct 15, 2014. [Photo provided to chinadaily.com.cn]