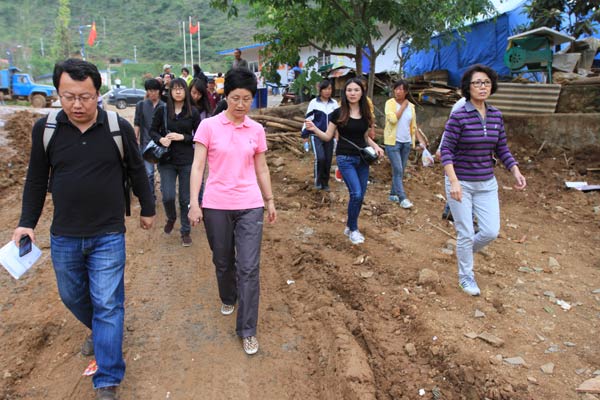 Yang Meihong (second left), vice-president of Volkswagen, heads a delegation to visit the epicenter in Ludian. CHINA DAILY
Together with the China Women's Development Foundation, Volkswagen Group China organized a two-day trip earlier this month to aid children in the earthquake-hit region of Ludian, Yunnan province.
The move was the latest effort by the automaker to promote children's health in the disaster area.
The group brought new books, stationery and volunteer specialists who offered counseling and nursing to affected children and their families.
The company also donated 5 million yuan ($815,000) to help the post-disaster reconstruction in Ludian.
The automaker said the funds will be used to establish five centers for children offering psychological and learning assistance, group activities and daily nursing by professional social workers, therapists and volunteers.
The project aims to help children overcome the mental trauma from the earthquake to regain confidence and optimism.
CWDF Secretary-General Qin Guoying said that companies such as Volkswagen are welcome to offer help, in particular to bring safety and humane care to children in disaster areas and fulfill their corporate social responsibilities.
Construction on two temporary service centers is now complete. Each provides tents, tables, books and toys, and also offers medical services, psychological counseling, cultivation of interests and holiday activities.
Social workers, psychologists and volunteers are also ready to help children ease through the three months after the earthquake, a period when psychological problems can be frequent, to help restart their lives and education.
The company also plans to invite the local villagers to gather at the centers in October to see what the children have learned during the period.
Part of the donated funds will also be used for water purification equipment at 15 local primary and middle schools to reduce health risks related to the drinking water. The project is scheduled to start in October.
"I hope those efforts from Volkswagen can bring the children back to their normal and healthy life as soon as possible," said Yang Meihong, vice-president of Volkswagen China.