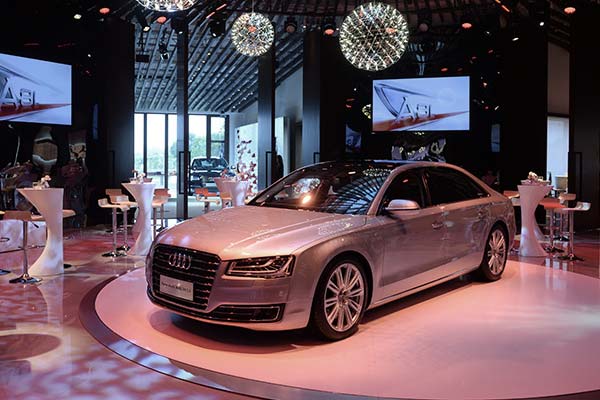 A New Audi A8L was pictured at the launch event in Beijing on Aug 18, 2014. [Photo provided to chinadaily.com.cn]
The New Audi A8 series has a myriad of new features that aren't found in previous models. With new features that include grenade-proof doors, the vehicle is in a class of its own.
Launched in Beijing earlier this week, the new A8 series follow FAW-Volkswagen Audi's long time slogan, Progress through Technology. The company has made new headways in innovation with this new vehicle.
One of the first new features found in the new A8 series is in its lighting systems.This time the New A8 series will be fitted with Matrix LED headlights. The headlight system leads the industry both in technology and design. In terms of technology, the system can automatically detect vehicles and pedestrians, and switch among its 960 million lighting modes to mask other road users out of the cone of light.
Not to overlook the engine, Audi has added an Intake Manifold Fuel Injection system to the new 3.0-liter TFSI engine model. The 4.0-liter TFSI engine model is also now 15 horsepower stronger more than before. The 6.3-liter FSI model engine now has a Cylinder On Demand system which was specially developed for its W-layout 12-cyliner engine.
These new engine technologies significantly lower the fuel consumption for the Audi A8 3.0 TFSI models, the 45 TFSI Quattro and the 50 TFSI Quattro models. Fuel consumption is stated to be 18 percent lower than the earlier models.
A hybrid variation, the Audi A8 40 Hybrid, now consumes the least fuel among the same class, on average 6.3 liters fuel every 100 kilometers. The German maker has also upgraded the steering system to Electromechanical Steering Systems that adds four advanced Driver Assist System functions.
The improved Night Vision Assist can identify not only pedestrians, also animals.
At the launch event, the company showed off the new Audi A8L Security, this version has all-wheel-drive and bulletproof, even grenade-proof, doors.
According to the information provided by FAW-Audi, the A8L Security's body materials are sturdier and also light weighted, making the sedan the lightest among all the same class bulletproof cars.
All in all with its new body that mirrors the classic Audi look, the German automaker has thrown in the options for more interior and exterior colors. The vehicles will also come with the Audi-specific Unikat leather.
Audi promises the New A8 series will redefine class. The new vehicles start at a manufacturer suggested retail price of 879,800 yuan ($142,802).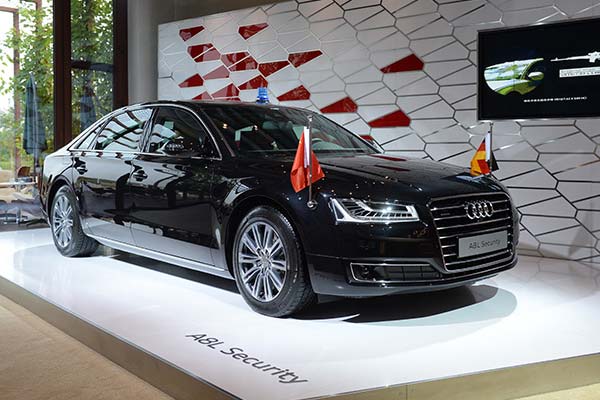 A New Audi A8L Security is pictured at the launch event in Beijing on Aug 18, 2014. [Photo provided to chinadaily.com.cn]