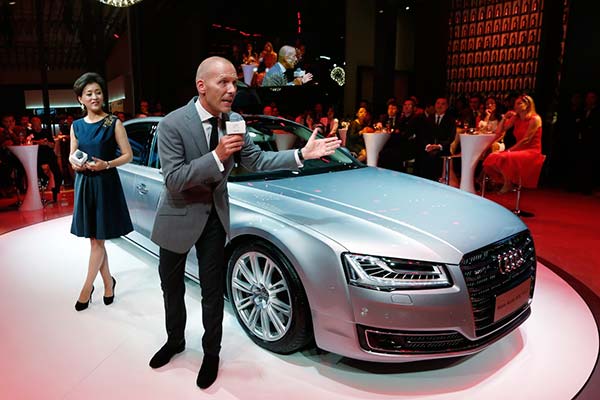 FAW-Audi Sales Division General Manager Dominique Boesch (right) introduces the Audi brand's century long history at the launch event of the new Audi A8 series on Aug 18, 2014, in Beijing. [Photo provided to chinadaily.com.cn]
In a launch event on Monday in Beijing, German auto maker FAW-Volkswagen's Audi brand debuted its new A8 series luxury car.
Under the slogan of "continuing the evolution of class", the updated Audi deluxe D-class flagship A8 series will feature more than 10 upgrades.
"In the past one hundred and five years, Audi insisted that 'we only produce luxury cars with strong power and high quality', said Dominique Boesch, FAW-Audi Sales Division general manager. Therefore, we had developed a unique progressive character and cultivated a strong sense of innovation."
The China-Germany joint venture has made changes in the marketing campaign. The launch event had an "Innovation" theme and it was aimed at exploring the "evolution of class" with Audi users.
Over the next month, FAW-Audi will show off the New Audi A8 series in five cities across China, including Qingdao, Chengdu, Shenzhen, Hangzhou and Shanghai. The company will also invite Audi owners to participate in the "continuing evolution of class" from the perspectives of sports, culture, business, music and arts.
"The company's progressive character and innovation sense makes every Audi that customers buy feel of 'classy', said Boesch. "With the New Audi A8 series, we have changed the meaning of class and evolved it to something new."
Famous Chinese actor and singer Andy Lau, who is also an Audi Vorsprung Circle brand ambassador, expressed his recognition for the concept of "continuing evolution of class".
"Where the class comes from is not a difficult question for the 128-year-old auto industry. However, where the class goes to is really a permanent question to all the grand auto brands." Ge Shuwen, FAW-Audi Sales Division executive deputy general manager.
"For Audi, we prefer to interpret class and progress with new technology," he added.
The new A8 can come loaded with personalized options and starts at a manufacturer suggested retail price of 879,800 yuan ($142,800).