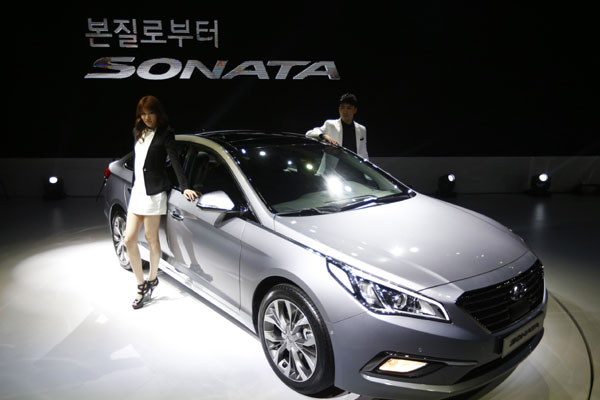 Models pose with Hyundai Motor Co's new Sonata sedan during its launch event in Seoul March 24, 2014. [Photo/Agencies]
SEOUL - Hyundai Motor Co plans to build its fourth plant in China for about 1 trillion Korean won ($926.48 million) and start production in early 2016, a source said, in its first major overseas expansion in more than two years.
Hyundai and its affiliate Kia Motors Corp are betting the facility in Chongqing will protect their share of the world's biggest car market, which accounted for more than a fifth of their global vehicle sales last year.
"Considering China's future demand growth outlook, we need to build a new plant to maintain our stable market share of 10 percent in China," Hyundai said in a statement on Wednesday.
The move signals the end of a period of consolidation for the world's fifth-biggest automaker, which has been focusing on improving quality rather than expanding capacity in a bid to avoid the sort of recalls that have dogged Toyota Motor Corp.
Analysts expect Hyundai or Kia to consider additional production facilities in the United States, China and other countries to address a capacity shortage and defend market share from rivals such as Volkswagen, General Motors and Nissan Motor, which are aggressively boosting capacity in China.
"They are expected to build more plants in China to keep up with market growth," said Ko Tae-bong, an auto analyst at Hi Investment & Securities.
"I also carefully expect Hyundai to build a new plant in the United States as it is physically impossible to further expand production due to capacity constraints."
Group chairman Chung Mong-koo will sign a preliminary deal on Thursday with the government of Chongqing city, in Southwest China, Hyundai said. Hyundai already has three plants in Beijing with its joint venture with Beijing Automotive Industry Holding Co Ltd.
The plant will bring Hyundai and Kia's total China capacity to 2.3 million vehicles a year from a projected two million at the end of 2014, Hyundai said.