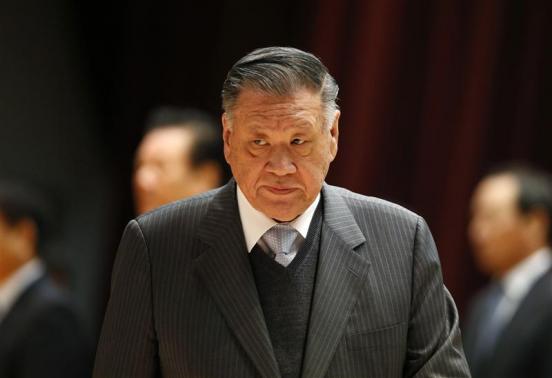 Hyundai Motor Group chairman Chung Mong-koo attends the company's new year ceremony in Seoul January 2, 2014. [Photo/Agencies]
SEOUL - The man who led South Korea's auto industry on a tear through the last decade said Hyundai Motor Co and Kia Motors Corp expect what will be their lowest annual sales growth since 2003 as the weak yen fires up Japanese rivals.
In his annual New Year speech to staff on Thursday, 75-year-old group chairman Chung Mong-koo said sales at Hyundai and its smaller affiliate Kia will likely grow just 4 percent in 2014. Global competition is about to get tougher in an industry facing changing technology and an uncertain future, he warned.
The Korean duo exports about two-thirds of its cars from South Korea, a much higher proportion than Japanese peers, making them more vulnerable to currency fluctuations. A weaker yen gives Japanese carmakers like Toyota Motor Corp, Honda Motor Co and Nissan Motor Co leeway to offer customers better deals in key export markets like the United States - the same advantage that helped Hyundai and Kia after the global financial crisis of 2008.
"Competition among companies is intensifying, as the global economy has entered an era of low growth," Chung said in his traditional New Year address to some 1,000 employees at Hyundai's Seoul headquarters. "Technological convergence leads to change in the industry, and adds to uncertainty."
On Thursday, the won hit its highest level for more than five years against both the dollar and the yen, prompting talk in Seoul of possible government intervention in currency markets to help exporters. Shares in Hyundai and Kia, ranked fifth in the world by combined global sales, ended down 5.1 percent and 6.1 percent, respectively.
The yen's fall has been stoked by Japan's attempts to support its export industries and pull its economy out of a two-decade slump. A senior official in South Korea earlier this week expressed concerns that the country's own exporters could be hurt as a result: auto exports typically account for close to 9 percent of South Korea's total.
Toyota is on course for record profits in the financial year ended March 2014, largely helped by the weaker yen. That trend also helped Mazda Motor Corp and Subaru maker Fuji Heavy Industries Ltd become two of the top three performers in the Nikkei stock average in 2013.
Breakneck to bleak
The year ahead promises to be testing for Chung, more than 10 years into the job leading the company founded by his father. Hyundai has shaken up US management amid a fall in market share there, while a new free trade deal with the European Union means German rivals are encroaching on its once-impregnable domestic stronghold.
Hyundai and its affiliate Kia are planning for global sales of a combined 7.86 million vehicles this year, up from 7.56 million in 2013. To achieve that, Chung is counting on growth from revamped versions of key models like the Genesis and Sonata sedans, as well increased production capacity in China.
The forecast increase for 2014 would be in line with the global auto market's projected sales growth of 4 percent, but is the lowest since 2003's 2.3 percent. It's also bleak by comparison with breakneck growth at one of the auto industry's biggest success stories during the global economic downturn at the end of the last decade.
At their growth peak in 2010, Hyundai and Kia's annual sales climbed 24 percent as the weaker Korean won allowed them to offer stylish, feature-loaded new cars at affordable prices.