Hyundai Motor US names new chief, Krafcik out
Updated: 2013-12-28 17:26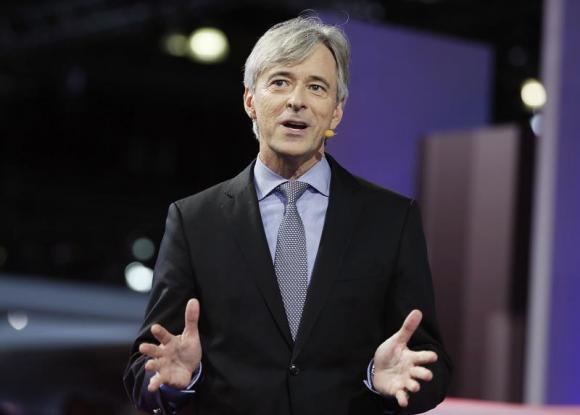 John Krafcik, president and CEO of Hyundai America introduces the company's new cars during the 2013 Los Angeles Auto Show in Los Angeles Nov 20, 2013.[Photo / Agencies] 
Hyundai Motor Co said on Friday its US chief, John Krafcik, is stepping down after his contract was not renewed and will be replaced by the US sales chief David Zuchowski.
During Krafcik's five-year tenure Hyundai's share of the US market rose to as high as 5.1 percent for 2011 from 3 percent in 2008. But it has fallen to 4.6 percent due mainly to production capacity constraints.
Zuchowski is 55. He takes over on January 1 after the surprise announcement of Krafcik's departure. Krafcik's contract expires at the end of the year.
Neither Zuchowski nor a Hyundai spokesman gave any reason for why the parent company in South Korea did not offer Krafcik a contract extension.
Krafcik, 52, led the US arm of Hyundai as it set sales records using innovative marketing techniques including a program that allowed Hyundai buyers who lost their jobs during the recession in 2009 to return their new cars.
But Krafcik also oversaw Hyundai as the company was cited by the US Environmental Protection Agency for overstating fuel mileage claims on its cars in 2012.
Last week, Hyundai reached a preliminary $210 million settlement on the fuel mileage issue in a class action suit. Kia Motors, which is Hyundai's sister company but is mostly operated separately in the United States, reached a settlement of $185 million last week.
Zuchowski said in a telephone interview on Friday that Krafcik's departure was a surprise even to "those that were in the inner circle" at Hyundai's US headquarters.
A Hyundai spokesman said Zuchowski is not an interim leader and Zuchowski said the company is undergoing "a very orderly transition."
Analyst Karl Brauer of Kelley Blue Book said Krafcik "has a strong relationship with numerous power brokers and an enviable record after five years at Hyundai. He oversaw the Korean carmaker's growth while developing several innovative branding exercises. He would be a powerful addition to any automaker's executive team."
Zuchowski said Hyundai has a goal of returning to 5 percent US market share, but he said it may take a couple of years to get to that level of sales again, considering the supply constraints.