Infiniti sees Chinese luxury car market expanding
Updated: 2013-11-28 13:40
Q & A | Daniel Kirchert, Infiniti China's Managing Director
The Infiniti Q50 2.0T, the brand's first turbo model, made its world premiere in China on Nov 21 at the 2013 Auto Guangzhou. Chinese customers will be the first to experience the Infiniti's newest sedan with its all-new powertrain system.
China Daily Motoring interviewed Infiniti China's Managing Director Daniel Kirchert after the launch ceremony at the Guangzhou auto show.
Q: Why is Infiniti making its 2.0T engine's global premiere in China?
Daniel Kirchert: China is crucial to Infiniti's global development. Infiniti moved its global headquarters to Hong Kong. China is now Infiniti's second largest market. The first is the United States. The Infiniti brand was created in 1895 in the US.
Our strategic target is to become a major member of the premium brand club. It takes time to realize this target. To make Infiniti a real global brand, the first step, the most important step, is to make a breakthrough in China.
Infiniti's globalization is also localization in China. We will take all the key products into consideration, and bring them to China as soon as we can.
For the 2.0T engine launch, we considered that the market really needs an engine like that.
Q: What will be the future of the Chinese luxury car market?
Kirchert: Next year, in a rather long period, the Chinese luxury market will maintain its growth. We saw a significant rising trend in luxury car purchases and re-sales.
There is the urbanization trend, and the tier four and five cities are developing. The customer may have already purchased a second or third car, and will buy another, or change to a better one. From this aspect, the luxury car market will maintain swift expansion over the next five to 10 years.
The luxury car market grew 15 percent this year, and I believe similar growth will be seen next year. Our target is to exceed the market development.
I have confidence in Infiniti Q50 that it will have the largest sales volume. Available in April, it is expected to make a great contribution in the company's growth.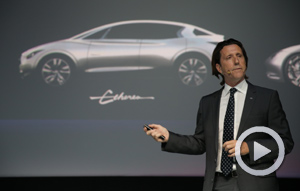 Exclusive: Alfonso E. Albaisa, Executive Design Director of Infiniti
Q: What makes Infiniti Q50 unique when compared with other cars?
Kirchert: The first is the design. Each Infiniti product has a unique design.
The second, as mentioned at the news conference, is the innovative technology. I will confidently say that the Direct Adaptive Steering and the double touch screens like iPads may become a new benchmark within this class.
Video photographer: Hao Yan
Editor: Hao Yan
Producer: Nie Peng
Executive producer: Han Lei