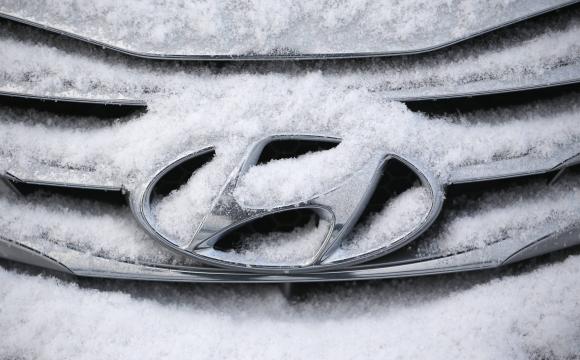 The logo of Hyundai Motor on a sedan is covered with snow at a shipping yard at a port in Pyeongtaek, South Korea, on Jan 20, 2014. [Photo / Agencies]
Two years ago, Hyundai Motor Co's 75-year-old chairman Chung Mong-koo called a halt to capacity expansion, worried the South Korean group risked running into the kind of quality issues that dogged Japanese rival Toyota Motor Corp when it grew too aggressively in the 2000s.
Now, Hyundai and its affiliate Kia Motors Corp are again looking to invest in new manufacturing capacity, running feasibility studies in promising markets such as Mexico and scouting for a site for a fourth plant in China, the world's biggest autos market, said five people familiar with the group's plans.
Chung's unofficial capacity freeze - aimed at giving factories and parts suppliers a breather after rapid growth over the past decade and pushing the focus on to improving quality - remains in place, but some executives now feel more confident about the quality of the group's vehicles. A decision on opening a new Hyundai assembly plant in China could come before the end of this year.
true "We're poring over mid- to long-term capacity investment plans now," said one high-ranking Hyundai group executive, who, like the others familiar with the plans, didn't want to be identified as they are not authorized to talk to the media.
The expansion freeze is making it tough for Hyundai to squeeze additional capacity from existing plants. Together, Hyundai and Kia last year utilized 105 percent of their installed capacity, and a consultant familiar with Hyundai's factory operations noted the group's US plants, in Georgia and Alabama, are running flat-out, with utilization rates at 125-130 percent on a two-shifts-a-day basis.
"That's just not a sustainable approach if it lasts a few more years, even though the ban has been highly beneficial to Hyundai's bottom line," said one of those familiar with the company's plans. Hyundai Motor's operating margin was 9.5 percent last year, one of the auto industry's best. The medium-term goal at rival Nissan Motor Co Ltd is 8 percent.
Chung's ban on expansion was "motivated by his effort to keep Hyundai from making the mistakes Toyota made," one of the people said, referring to a perception that the Japanese automaker lost control of engineering and manufacturing quality as it ramped up capacity to well above 8 million vehicles.
"Hyundai was growing way too fast and worried their suppliers couldn't catch up," said another of those familiar with the group's thinking.
While executives may cheer quality improvements, Hyundai/Kia ranked third last year in the number of vehicle recalls in the United States - 3.3 million. Only Toyota and Chrysler recalled more.
Hyundai and Kia plan to sell 7.86 million vehicles globally this year, up from 7.56 million in 2013, and the feasibility studies could be a prelude to growing capacity to beyond 8 million vehicles a year. Hyundai has also looked at building a third US plant, but is cautious given the tough competition in a crowded market.