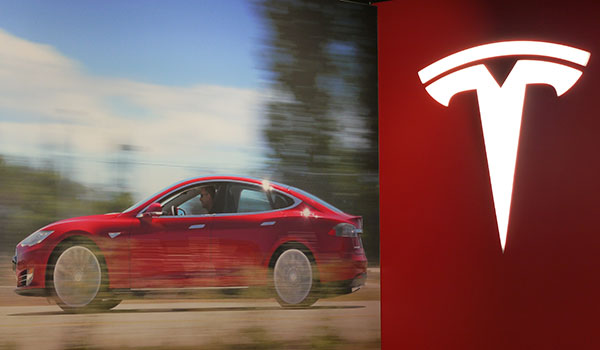 The Tesla logo is pictured on Feb 5, 2014 in its first Chinese mainland show room in Beijing. [Hao Yan / chinadaily.com.cn]
Tesla Motors Inc said on Wednesday it plans to raise $1.6 billion from investors to finance a new battery factory that will help the upstart US automaker reach its goal of producing a lower-priced, mass-market electric car by 2017.
Tesla said the new plant, nicknamed the "Gigafactory," would be built in one of four states: Nevada, Arizona, New Mexico or Texas. By 2020, Tesla said, the plant would be able to make more lithium-ion batteries in a year than were produced worldwide in 2013.
The company said the plant will open in 2017 and ship batteries to the company's assembly plant near San Francisco.
The Palo Alto, California-based maker of high-priced electric cars plans to raise the money by selling convertible senior notes, half of them due in 2019 and the other half in 2021, it said in an 8-K filing with the US Securities and Exchange Commission,
Analysts believe the factory may ultimately cost $5 billion to $6 billion to build and will be funded with the help of some of Tesla's Japanese suppliers, including Panasonic Corp.
The plant, which will handle everything from processing raw materials to final assembly, will produce small, lightweight batteries for Tesla and may also supply other automakers.
Battery costs have been a major stumbling block to widespread electric car adoption in the United States, according to analysts. Tesla's new factory will lower costs by shifting material, cell, module and pack production to one spot.
In Tesla's earnings conference call last week, Chief Executive Elon Musk said the electric car maker expects to build the factory with more than one partner, but a "default assumption" was that Panasonic, as a current battery cell partner, "would continue to partner with us in the gigafactory."
"The factory is really there to support the volume of the third generation car," Musk, a billionaire entrepreneur, said on the call.
"We want to have the vehicle engineering and tooling come to fruition the same time as the "Gigafactory." It is already part of one strategy, one combined effort."
Tesla, which Musk founded in 2003, posted better-than-expected fourth-quarter results last week and said deliveries of its luxury Model S electric sedan would surge more than 55 percent this year to more than 35,000 vehicles.
By comparison, the best-selling car in the United States last year, the Toyota Camry, sold about 408,000 in 2013.
In after-hours trading, Tesla shares were up about 2 percent at $258.60, adding to a 2 percent gain in regular trading.
Earlier this week, Consumer Reports named the Model S car its overall top car pick for 2014. The magazine cited the Model S's "exceptional performance and its many impressive technological innovations," though the magazine called it "pricey" at $89,650.
More stories: