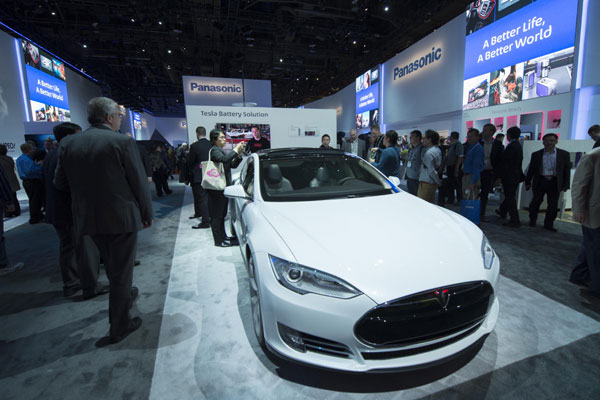 Tesla Motors Inc displaying its latest electric car at a consumer electronics show in Las Vegas. The US automaker is expanding into the Chinese market as the government encourages the use of new-energy vehicles. [Yang Lei / Xinhua]
US electric carmaker Tesla Motors Inc appealed to China to extend to it incentives for new-energy vehicles, as it hopes to reap sales in China.
"We understand we don't qualify for direct subsidies (in China)," Diarmuid O'Connell, Tesla's vice-president of business development, told Bloomberg on Monday. "We're hoping the government will consider the role Tesla can have in catalyzing electric vehicle adoption in China and extend those incentives to Model S as well."
China's Ministry of Finance was unavailable for comment on Tuesday.
But on Saturday, the ministry released information that the subsidies would be trimmed less than had been expected.
Tesla's shares surged 5.4 percent to close at $196.56 on Monday, surpassing the previous record of $193.37 on Sept 30, according to Bloomberg statistics.
The Chinese government currently provides subsidies only to locally produced new-energy vehicles, with 35,000 yuan ($5,700) to 60,000 yuan per vehicle going to owners of pure electric passenger vehicles.
Last year, the government offered subsidies totaling 26.5 billion yuan to stimulate purchases of energy-efficient products, mainly automobiles and household appliances.
In 2012, China set an ambitious annual target of producing and selling 500,000 energy-efficient and alternative-fuel vehicles by 2015, with 5 million green vehicles by 2020.
The blueprint is expected to help achieve an annual production capacity of 2 million pure electric and plug-in hybrid vehicles by 2020, the plan said.
In November, it issued a new round of subsidies for alternative-fuel vehicles in more than two dozen cities and urban clusters by 2015.
Although the incentives were extended until Dec 31, 2015, they will decline by 5 percent in 2014 based on the 2013 standard, and fall by another 10 percent in 2015 from the 2013 figure.
But according to Xinhua News Agency, the cuts were only half the reduction in subsidy that had previously been announced.