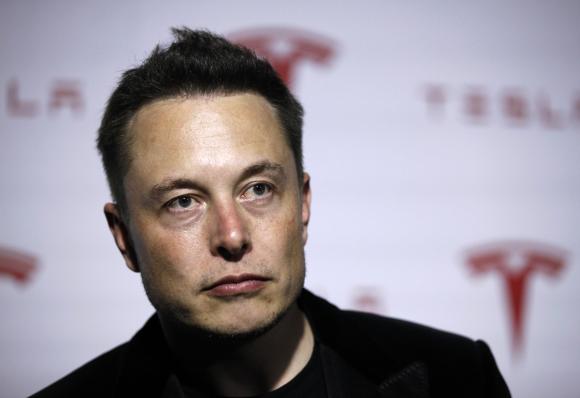 Tesla Motors Inc CEO Elon Musk talks about Tesla's new battery swapping program in Hawthorne, California June 20, 2013.[Photo/Agencies]
Tesla Motors Inc, led by billionaire entrepreneur Elon Musk, posted better-than-expected fourth-quarter results on Wednesday and said deliveries of its luxury Model S electric sedan would surge more than 55 percent this year.
Tesla also shed some light on its plans for building a lithium-ion battery plant, or "giga factory," that will cut battery costs and allow the company to launch a more affordable electric car in 2017.
Tesla shares jumped 12.3 percent to $217.44 in extended trading following the announcement. A day earlier, the stock shot up to an all-time high after the San Francisco Chronicle reported that Musk met with Apple Inc's head of mergers and acquisitions in 2013.
There is a heated debate among auto industry experts and investors over whether Tesla's sky-high valuation is justified. The company has a market capitalization of nearly $25 billion, slightly less than half of General Motors Co's $57.7 billion.
In research notes ahead of Tesla's quarterly report, analysts expressed concerns that investors underestimate how much Tesla will have to spend to develop and launch its third-generation electric car, which is crucial to the company's long-term future.
The vehicle will be built on a separate production line at Tesla's factory in California.
Battery costs have been a major stumbling block to widespread electric car adoption in the United States, according to analysts. The giga factory, which Tesla will build with at least two other partners, will lower costs by shifting material, cell, module and pack production to one spot.
Tesla would need to raise capital to pay for the plan. He added Tesla would share more details about the plant next week.
"The factory is really there to support the volume of the third generation car," Musk said during a conference call with analysts. "We want to have the vehicle engineering and tooling come to fruition the same time as the giga factory. It is already part of one strategy, one combined effort."
Tesla unveils growth plan for China