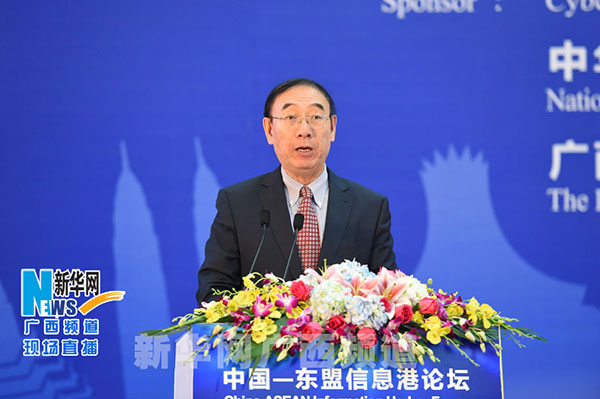 Jiang Zhengxin speaks at the China-ASEAN Information Harbor Forum on Sunday. [Photo/Xinhua]
China Unicom, one of China's three State-owned telecom companies, is constructing the country's only overseas international submarine cable link with Myanmar, said Jiang Zhengxin, vice president of China Unicom on Sunday.
He made the announcement during the China-ASEAN Information Harbor Forum in Nanning, Guangxi Zhuang autonomous region.
The China-Myanmar optical cable transmission system, invested to the tune of $50,000,000 by China Unicom, has been completed and extends China's international communication network to the Indian Ocean, Jiang said.
China Unicom will continue to work on information infrastructure between China and the ASEAN countries, realizing the connectivity between technology networks and infrastructure, and building an information version of "One Belt and One Road", he said.
The company established an international communication passageway for ASEAN countries in Nanning in 2011, which has improved the quality and speed of voice data Internet business and promoted the exchange of information between Chinese cities and ASEAN countries.