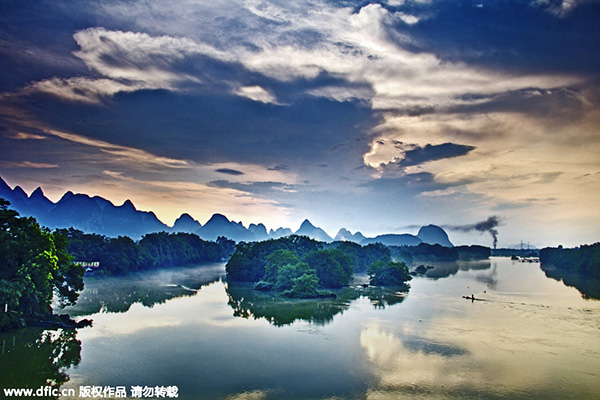 The Lijiang river in Guangxi Zhuang autonomous region, June 26, 2014. [Photo/IC]
Guangxi Zhuang autonomous region is located in southern China, neighboring the provinces of Guangdong in the east, Hunan in the northeast, Guizhou in the northwest, and Yunnan in the west. To the south it gives onto the Beibu Gulf and faces the island province of Hainan across the sea to the southeast. It covers an area of 236,700 sq km, accounting for 2.5 percent of China's total territory, the ninth largest of China's administrative divisions. Guangxi is one of China's frontier provinces, having a 696 km-long land border with Vietnam to the southwest and a 1,595 km-long mainland coastline.
Guangxi is both a coastal and frontier region, the only one in China with both land and sea connections with ASEAN, a hub between the economic circles of south China, southwest China and ASEAN, making it a portal to ASEAN, the most accessible harbor in southwest China, and a key bridge linking Guangdong,Hong Kong, Macao and western China. Following the establishment of the China-ASEAN Free Trade Area in 2010, the strategic position and important role of Guangxi will become ever more prominent.
Areas of flat land in Guangxi are small and narrow: 71 percent of Guangxi is made up of mountains and hills. Mao'er Mountain in the northeast part of the region rises 2,141 m and is the highest in south China. Following the lie of the land, the Guijiang, Liujiang, Yongjiang rivers all flow southeast into the Xijiang River and ultimately into the Pearl River. There are some 90,000 sq km of karst landform in the west, southwest and northeast of Guangxi, accounting for 38.5percent of its total area. Its karst topography is known for crystal-clear streams, weird peaks and rocks, underground rivers and karst caves with grotesque stalactites in shapes resembling bamboo shoots, columns, curtains, dikes, animals and plants. Three outstanding examples of karst landforms in Guangxi are: the Lijiang River scenery of Guilin, a masterpiece of karst landscape; Detian Waterfalls in Chongzuo; and Dalong Lake Scenic Area in Nanning.
Located on a low latitude, neighboring the tropical ocean in the south, adjacent to Yunnan-Guizhou Highland and Lingnan Mountains in the north, the center of Guangxi is bisected by the Tropic of Cancer. It has a subtropical monsoon climate with warm winters, hot summers and abundant precipitation under the alternating influence of warm, humid air from the ocean and cold, dry air from the north.
Guangxi has large mineral reserves of nonferrous metals in particular. Discoveries of 145 minerals have been made, accounting for 42.9percent of proven reserves in China. Of the 99 types of mineral with proven reserves, reserves of 12 types are the highest in China.
Guangxi is the region with the greatest concentration of ethnic groups, being populated by 12 native ethnic groups: Zhuang, Han, Yao, Miao, Dong, Mulam, Maonan, Hui, Gin, Yi, Shui, and Gelao. The Zhuang are the most numerous, are China's major ethnic minority.
Guangxi has 14 prefecture-level cities under its administration, namely Nanning, Liuzhou, Guilin, Wuzhou, Beihai, Fangchenggang, Qinzhou, Guigang, Yulin, Baise, Hezhou, Hechi, Laibin, and Chongzuo; seven county-level cities, 56 counties, 12 autonomous counties, and 34 municipal districts. Guangxi recorded a population of 53 million, is China's most densely populated autonomous region.
Nanning, the capital city of Guangxi, dates back 1,600 years. This ancient city in the south also serves as the political, economic, cultural, information, financial, technological and educational center of Guangxi. Nanning, also known as a "Green City", is a national garden city and won a UN Habitat Award in 2007.