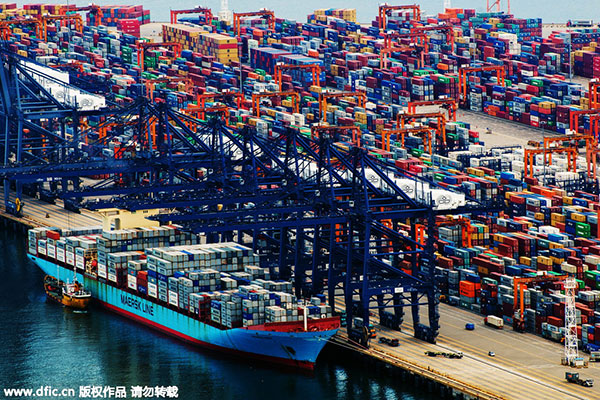 Containers are unloaded from a container ship of Maersk Line at Yantian Port in Shenzhen city, south China's Guangdong province, Aug 14, 2014.[Photo/IC]
The introduction of the Belt and Road Initiative has become China's very own blueprint for globalization, according to a study from the European Union Chamber of Commerce in China.
The strategy is very much in line with China's intention of embracing global economic trends, the chamber said in its 15th annual European Business in China position paper, and will also greatly benefit the Eurasian region as whole.
It said China had been swiftly and resolutely moving ahead with its development agenda, including the Belt and Road, and by expanding its overland trade with the EU, the economic plans could profoundly shape the future of the global trading system.
The Belt and Road Initiative, proposed by China in 2013, is a trade and infrastructure network that includes the Silk Road Economic Belt and the 21st Century Maritime Silk Road. The network connects Asia, Europe and Africa and passes through more than 60 countries and regions with a population of about 4.4 billion.
The chamber also said the strong participation of EU countries in the recently launched Asian Infrastructure Investment Bank would further alleviate global investment needs, while the AIIB and its forthcoming investment projects would offer excellent opportunities for products and services for European companies.
Referring to the Belt and Road as a "bridge" that connects Asia, Europe and Africa, Sang Baichuan, director of the Institute of International Business at the University of International Business and Economics in Beijing, agreed the initiative would go a long way to boosting the flow of trade, investment and commerce between the regions, even against the context of a softening global economy.