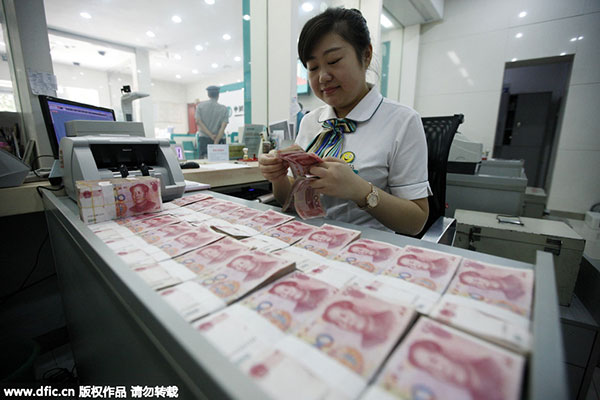 A clerk counts RMB (renminbi) yuan banknotes at a bank in Huaibei city, East China's Anhui province, Aug 26, 2015.[Photo/IC]
China's central bank has tweaked the way it will assess banks' reserve ratios and said the new methodology will help keep the financial system flowing should funding dry up.
The new compilation method - which will use average levels over a period instead of a daily calculations - could help release liquidity in some situations and maintain stability in the money markets, the People's Bank of China said on Friday in a statement on its website.
"The purpose of the average-based method is mainly to improve the flexibility and convenience of liquidity management at financial institutions," the central bank said in the statement. The new rules take effect from Tuesday.
"The change will help smooth out the volatility in the money market," said Wan Zhao, a Shanghai-based analyst at China Merchants Bank Co. "As it now allows banks to slightly miss the requirements at certain points, it loosens the previous regulation. It is part of the broader financial reform that grants more flexibility to banks."
Major banks must hold specific amounts in reserve, which the PBOC this month reduced by 50 basis points to 18 percent. If banks are allowed to slightly miss the daily requirement, the PBOC may be hoping that they would be more willing to lend, said Li Qilin, a Beijing-based analyst at Minsheng Securities Co.
"The change will encourage financial institutions to lend in the money market," Li said. "With the currency under depreciation pressure, liquidity is likely to face larger volatility. This policy will help stabilize liquidity."
The regulatory tweak is the second recent retooling the authorities have announced this month. The National Bureau of Statistics said on Wednesday it will now tally economic output for each quarter.