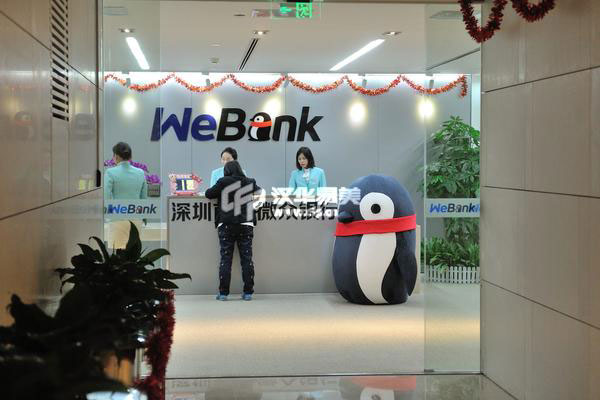 WeBank, China's first Internet-based private bank, in Shenzhen, Guangdong province, Jan 20, 2015. [Photo provided to China Daily]
Regulatory hurdles hampering online private bank's expansion after identity process halted
WeBank, China's first Internet-based private bank, appears to have hit the buffers, nine months after it was approved for operations, as existing regulations are hampering its growth, sources said on Friday.
Under the current regulations, customers who want to open accounts in online banks need to do so with a debit card issued by a traditional bank, due to safety concerns.
However, many customers have found that they are unable to open accounts in WeBank, an online bank set up by Internet giant Tencent Holdings Ltd and its local partners, with debit cards issued by China Merchants Bank Co Ltd.
Investigations have revealed that China Merchants Bank, a mid-sized commercial lender based in Shenzhen, Guangdong province, has closed down the identity verification interface between the two banks, Shenzhen Economic Daily reported.
CMB explained that the bank "found it necessary to close down the identity verification interfaces between CMB and certain platforms to prevent potential risks".
These platforms transferred large amounts of money out of the clients' debit cards to invest in wealth management products, rather than making regular small payments for water, electricity and insurance bills. It will compromise the clients' money and account information, CMB said in a statement.
But some analysts see the CMB move as a fight against WeBank and part of its efforts to halt the flow of its deposits to wealth management products offered by the online bank.
Wu Xiaoping, a former investment banker who now works with an Internet-based financial company, said: "Which commercial bank is willing to see Tencent attracting a large portion of its deposits with short-term baits? Not to mention that the strength of China Merchants Bank lies in retail banking. I am afraid that all the large commercial banks will close down their identity verification interfaces with WeBank if it grows too fast."
When regulators approved the launch of WeBank in December, it was expected to push forward China's financial reform. But its development fell far short of expectations, as China has not yet realized Internet-based remote account opening, Wu said.
At present, WeBank does not support payments by card or money transfer from one customer account to another. The WeBank account is basically a small-amount wealth management account.
Difficulties faced by the online bank have aggravated after its president Cao Tong, the former vice-president of The Export-Import Bank of China, decided to step down from his post. Cao, who joined WeBank in November, is joining an asset securitization platform, said a person familiar with the matter.
Analysts cite the conflict between the Internet-based and traditional banking cultures as the reason for his departure. "WeBank and Cao Tong epitomize the predicament of China's Internet-based financial industry," Wu said.
Meng Jing contributed to this story.