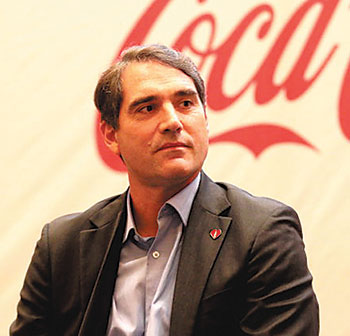 Henrique Braun, president of Coca-Cola Greater China and South Korea
Coca-Cola will invest $4 billion in China in three years as the beverage maker responds to the nation's new normal of economic growth with greater innovations and investments.
Henrique Braun, president of Coca-Cola Greater China and South Korea, said Coca-Cola continues to be "excited about the growth opportunities in China".
"In China, Coca-Cola has its biggest innovation center outside the United States," said Braun.
The company's innovation center in Shanghai develops new beverages and packaging for China, the Asia-Pacific region and the world.
Braun, who joined Coca-Cola in 1996, said he's proud of made-in-China products such as Minute Maid Pulpy. The brand was introduced to the Chinese market in 2005 and became a billion-dollar brand within five years.
"What we do is a mix of global brands and local insights that start local, but with the scale of China, they easily become global."
The 129-year-old beverage giant operates in more than 200 countries and regions across the world.
He spoke to China Daily at the 2015 Summer Davos summit in Dalian, Northeast China's Liaoning province, on Coca-Cola's strategies and innovative footprint in the region.
Approach to innovation
"We as a company have always seen great value in being part of the forum. It's a privileged opportunity to bring stakeholders from the industry, government, NGOs and academia all together to discuss common goals, challenges and opportunities," Braun said. "There are a lot of conversations around innovation and sustainability on this year's agenda, as they are totally connected to the common interests of all."
He said the topic that interests him most is the approach to innovations.
"Beyond new products and services, how do you inspire innovations? Young entrepreneurs at the meeting may start their companies in different fields, but they share their innovative approach that can actually be replicated in any business.
"Being bold in ideas and leveraging partnerships to foster bigger and faster innovations are just a few worth mentioning."
Confidence in China
Part of Coca-Cola's uniqueness is that the company is"129 years young" and has been in more than 200 countries all over the world, he said.
"We always develop our businesses with long-term visions. If we look from a global perspective, China's economy is healthy. China's economic driver is in place and the momentum is positive. For our businesses, we are providing consumers a wide range of beverages for different occasions."
"We continue to be excited about the growth opportunities in China, so the new normal has not reduced by any means our appetite."
The company's management recently announced that the company will invest $4 billion in three years in China.
Internet links
"Literally everyone will be reached by Internet. For the company, the Internet has changed not only our business model, but also the communication between the brand and consumers," Braun said.
Coca-Cola's marketing has shifted from impression to expression and finally to making a transaction, he added.
The "Share a Coke" campaign in 2013, for example, built strong links to consumers through the Internet, such as online music and movies.
"The campaigns were so popular that they generated hundreds of millions of voluntary sharing on social platforms each year," he said.
"You have to connect the offline world with the online one. Our online transformation will be critical to success."
'Do well by doing good'
"We don't perceive sustainability as a separate concept. It's imbedded into our business, we strive to do well by doing good. For instance, water is not only very important for life but for our business as well," he said.
In China, Coca-Cola has already replenished 100 percent of the water put in its beverages, he said. "To become water neutral is the goal Coca-Cola wants to achieve by 2020, and we will be able to achieve that at an earlier date."
"Business goals and social responsibility should go hand in hand. We aim to not only preserve the environment, but also provide better living conditions for communities," he stressed.
Coca-Cola has had 45,000 employees in China since 1979." We have 121 Project Hope schools in the country that I feel very proud of. We also have a water treatment program for rural schools to make sure students there have filtered drinking water," he said.
"It might be small in the context of the community, but together, they are in line with how we develop our businesses. We care about the community, we keep our employees happy and we develop our businesses in a sustainable way."
Advice to entrepreneurs
"Big companies will remain innovative as long as they keep learning. That's what we have learned at Coca-Cola," Braun said.
"One cannot lose connection with the most important driver: the consumers. Chinese consumers have been absorbing a lot of new things over the past two or three decades. So stay in touch with them and you will be flexible," he said.
"Big data from our digital and social platform have been helping us better understand our consumers' insights and new innovation trends at a faster speed," he said.
Coca-Cola also hires local talents and also has management trainee programs.
"You see a lot of amazing new ideas flourish through these young fresh minds," he said. "Young entrepreneurs are already doing an outstanding job inspiring the world. With the creativity and growth potential, especially in China, you can shape the future."