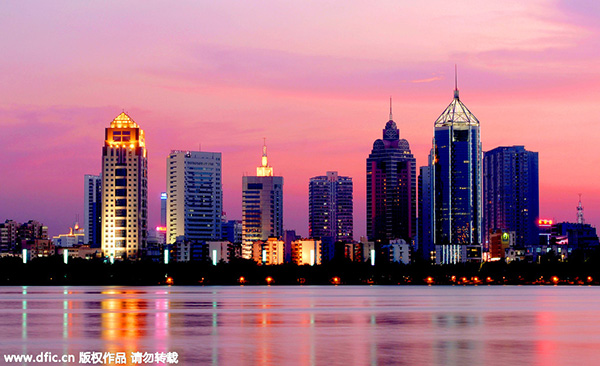 View of Nanning,Guangxi Zhuang autonomous region, Oct 3, 2014. [Photo/IC]
Since the day when it was chosen as the permanent host city of the CAEXPO, Nanning, the capital of Guangxi Zhuang autonomous region, has become a hub for bilateral exchanges between China and ASEAN.
Nanning enjoys a history of over 1680 years. Nowadays, there are 7.07 million people living in this city, which covers a total area of 22,112 sq km (urban area: 6,479 sq km).
Reputed as the Green City of China, Nanning is the best place for human inhabitation in western China. Besides, it has won quite a few awards, including the UN Habitat Scroll of Honour Award and the Dubai International Award for Best Practices to Improve the Living Environment. It is also One of the Top 10 National Eco-environmental Friendly Cities. 39% of the city is covered by trees or grass, and the public green area for each person is 10.29 sqm.
Nanning, as the core of the Guangxi Pan Beibu Gulf Economic Zone, enjoys great momentum in its economic development in recent years.
Nanning, a city with a long history, rich culture and many beautiful scenic spots, is also a renowned tourism city in China, where diversified cultural charms of different ethnic groups integrate harmoniously. What's more, the splendid Nanning International Arts Festival of Folk Songs, which is the gala show for the inauguration of each CAEXPO, is annually held here, making the city more attractive.