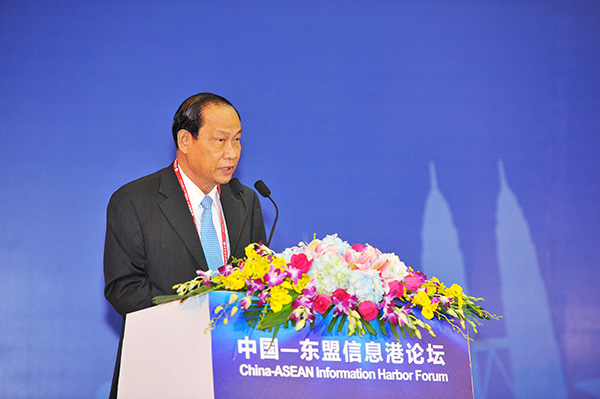 Hiem Phommachanh, minister of Post and Telecommunications of Lao PDR. [Photo from China News Service by Hu Yan]
Honorable Excellency Mr Lu Wei, Minister, The Cyberspace Administration of China,
Honorable Excellency Mr Peng Qinghua, Secretary of CPC Guangxi Zhuang Automomous Rigion and Chairman of the Standing Committee of People's Congress of Guangxi Zhuang Autonomous region,
Honorable Excellency Mr Lin Nianxiu, Vice Minister of National Development and Reform Commission of China,
Excellencies, Distinguished guests,
Ladies and gentlements,
At the outset, its kind invitation to us to attend. On behalf of the Lao delegation, we would also like to thank the Cyberspace Administration of China, the People's Government of Guangxi Zhuang Autonomous region, and the organizing committee for the warm hospitality and excellent arrangements.
Your Excellency, Distinguished guests, Ladies and gentlemen, Our government attaches a special importance to the theme of the "China-ASEAN Information Harbor Forum" as we are implementing our policy in transforming our landlocked status to a land linked.
Over the past decade, the ICT, in particular the internet has accounted for a significant percentage of the GDP growth in many countries including my country. My government uses the internet to improve the effectiveness and efficiency in the administration and provision of services, and recognizes it as a powerful tool for driving the national social economic development. At the same time, the individuals and small, upstart entrepreneurs have been greatly benefitting from the internet in improving their daily lives and businesses.
We acknowledge China's assistance in the successful of several ICT related cooperation activities between China and ASEAN. At the 9th TELMIN (the ASEAN Telecommunications and IT Ministers) + China meeting at the beginning of 2015 in Bangkok, China and ASEAN member states endorsed the 2015 ASEAN-China ICT Work Plan to exchange and cooperate in the areas of network interconnectivity, e-commerce development, big data technologies and applications, mobile Internet services and network security. We are looking forward to working toward the plan on the last quarter of 2015.
Ladies and Gentlemen, the Ministry of Post and Telecommunication (MPT) of Laos has been established in 2011 to plays the role of policy maker, regulator and monitoring our ICT developments. We recently passed the Cyber Crime Law. We are working on the ICT Law, ICT Policy and Cyber Security Policy. MPT is implementing satellite projects, thanks to close cooperation from China. Our first satellite will be launched at the end of this November which will represent as a special gift for the country on the occasion of the 40th anniversary of its founding on December 2nd.