Green progress, which President Hu Jintao emphasized in his report to the 18th National Congress of the Communist Party of China, has remained one of the hot topics among delegates in the past few days.
In the report, Hu drew an unprecedented parallel between ecological progress and economic as well as political development.
Chen Min'er, deputy Party secretary of Guizhou, said the province sees green progress as a way to catch up with more developed areas in the east.
"For a relatively underdeveloped region like Guizhou, industrialization is an inevitable process," Chen said.
"But we can avoid the old way of development, which caused serious pollution and ecological damage."
In 2007, the provincial capital Guiyang established China's first court to deal specifically with environment-related lawsuits. It is also taking the lead in China by stepping up with revision of a local regulation on ecological protection.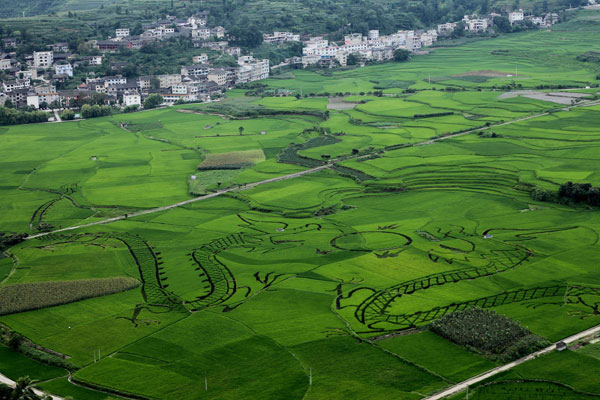 The outline of two dragons playing with a pearl is traced in a field in Kaiyang county, Guizhou province, in July. WANG JING / CHINA DAILY
Guiyang became a pilot city for ecological progress in 2009 and a low-carbon city in 2010. An international eco-forum has been held there annually since 2009.
According to Li Jun, Guiyang's Party chief, the city is boosting its green industries to protect the environment and use resources economically. Meanwhile, it is promoting ecological awareness in schools and communities.
Luo Baoming, Party secretary of Hainan province, said green progress needs strong support from industry.
"We can only realize our goal through more green industries, which involve low emissions but high added value, technologies and environmental thresholds," Luo said. "Green industries are the core support for green progress."
According to Luo, instead of simply exporting resources like quality quartz sand and rubber, Hainan has sought to extend its industrial chains.
For example, Hainan has cooperated with China Aerospace Science and Technology Group and is constructing China's largest and most-advanced production base for special-use glasses.
"We create huge added value with our resources in this way. It's good for our long-term development," Luo said.