Public transport alliances set to boost UnionPay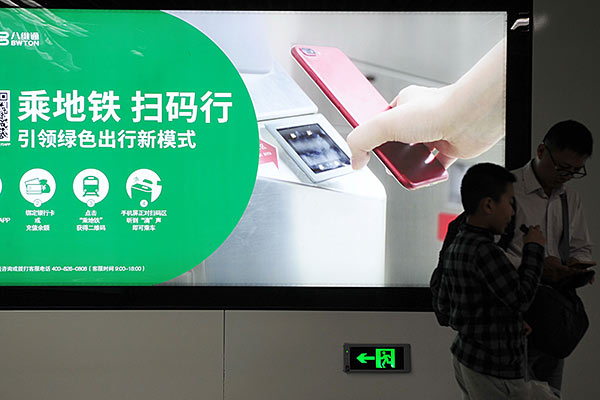 Passengers download a QR code payment application at a metro station in Fujian province.ZHANG BIN/CHINA NEWS SERVICE
China UnionPay is busy collaborating with public transportation systems nationwide to enable "tap and go" and "scan and go" entrances, a move that may propel the brand ahead of its mobile payment competitors.
The clearing services provider has lagged behind Alipay and WeChat Pay since the surge of mobile payments in 2014, but may catch up with those competitors by encouraging the use of UnionPay quick response code (QR code) payment and QuickPass, a form of near-field communication (NFC) payment.
In the first 19 cities where UnionPay pilot mobile payment applications will be used in public transportation, UnionPay provides users with comprehensive solutions including mobile phone QuickPass, bankcard QuickPass and QR code payment, said China UnionPay in a statement.
After a one-month collaboration with Guangzhou Metro, which enables commuters to use the mobile app as "tap and go", daily payments have surpassed 200,000 at the subway system in Guangzhou, Guangdong province, said China UnionPay.
The service is compatible with Apple Pay, Samsung Pay, Huawei Pay, Mi Pay and other mobile phone payment tools, according to UnionPay.
In Shanghai, UnionPay launched a QR code payment for subway commuters in late October, and offers random discounts up to 50 yuan ($7.5) per trip to commuters on the maglev, a service that connects the city's subway system to Shanghai Pudong International Airport.
Shanghai has one of the world's most developed subway systems in terms of total length of subway lines-427 kilometers this year. It is also one of the busiest subway systems, with daily trips exceeding 10 million.
UnionPay said it is likely that all of Shanghai subway lines will accept UnionPay mobile payments by 2018.
"Obviously, public transportation is one of the most frequent scenarios for payment. For payment users, frequency is perhaps the most persuasive factor besides discounts that will encourage them to accept and get used to a new payment tool," said Chen Jie, an analyst on consumption behavior and marketing with Shanghai Jiehua Consulting.
Payment service providers such as Alipay and WeChat Pay started with convenience stores, small restaurants and small retailers as initial payment scenarios. Billions of yuan were spent on discounts for consumers and incentives for merchants during QR code payment promotion campaigns since 2014.
China UnionPay suspended the launch of QR code payments due to "compliance concerns", according to a previous note to the media. That ended in May 2017, when the company resumed promotion of its QR code tools after the central bank launched a series of regulations on QR code payment, giving QR code payment the full green light.
"In fact, UnionPay and several banks were the first to launch QR code in China," said Xu Yang, an e-banking specialist with China CITIC Bank Corp Ltd.
"Sometimes, financial institutions must put compliance issues as top priorities," he said.
On the other side of the story, Alipay and WeChat Pay together took more than 90 percent of the share in the QR code payment sector by the second quarter of 2017, when it was a 23-trillion-yuan market. That is an overwhelmingly dominant position, according to the latest quarterly report on mobile payment in China by Analysys International, a market research and information services provider.
According to Li Chao, an analyst with iResearch, an internet information and market research provider, UnionPay's moves should be interpreted as providing "infrastructure" of the payment ecosystem.
"It is not just a payment services provider. As a clearing service provider, it has rich resources and can help banks, merchants, consumers to be better connected in a safer manner," said Li, the iResearch analyst.
According to Ge Huayong, president of UnionPay, more than 40 banks now accept UnionPay's QR code payment transactions and an additional 60 or so banks are testing their systems. More than 100 million users of online platforms such as JD.com and Meituan can also pay through UnionPay QR code when spending online. More than 2.6 million merchants accept UnionPay QR code payment.
"In fact, when mobile payment enters into a mature stage, we believe that safety, accessibility and service quality, such as smoothness of transactions, are key advantages amid competition," said UnionPay in a reply to China Daily's inquiries for comments on competition in the mobile payment sector.
"We aim at benefiting consumers, merchants and all parties involved in the payment process. We are an open platform, and we welcome alliances," UnionPay added.