After-school tutoring booms across China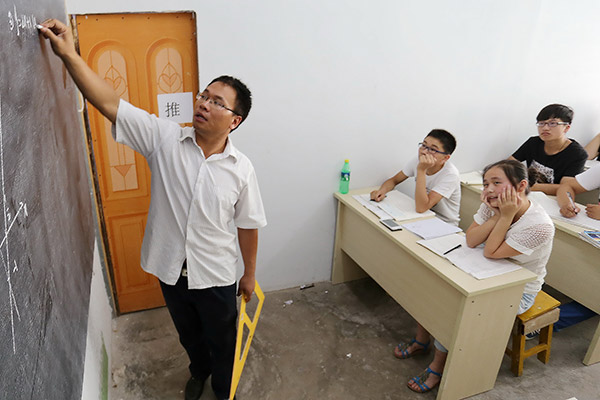 Students take summer classes at a tutoring school in Bengbu, East China's Anhui province, on July 21, 2014. [Photo/China Daily by Li Bin]
China's after-school tutoring market is expected to double its current revenues within five years, an industry report shows.
According to a new report on China's education sector by UBS Securities, China's kindergarten to grade 12 after-school tutoring market has been booming and will rise from revenues of 497 billion yuan ($75 billion) in 2016 to 1,082 billion yuan in 2021.
"The K-12 after-school tutoring sector will become one of few sectors with potential to double its size in five years and likely above market expectations," said Edwin Chen, executive director and co-head of Asia Small/Mid Caps Research of UBS Securities Co Ltd.
There were 182 million K-12 students in 2016, and the government expects that there will be 191 million by 2020. The country also expects to raise the urbanization rate, from 56 percent in 2015 to 60 percent by 2020, according to the report.
Penetration of K-12 after-school tutoring was only 37 percent in 2014 in China, but may have reached 70 percent in tier-1 cities, according to the Chinese Society of Education. Chen said the national average tutoring rate will grow to 50 percent in five years and the top tier cities penetration will rise to 80-90 percent in the period.
The subjects of tutoring will also be diversified and widened to expand the market scale, said the analyst.
There are three key drivers for the sector's growth.
First, there is an increasing number of students concentrated in bigger cities, which was boosted by growing urbanization and a rising birth rate, as well as sufficient public school resources in bigger cities.
Second, parents have high expectations for their children's education, with fierce competition to gain admission into top universities.
Third, rising disposable incomes and the perceived importance of a good education means parents are willing to pay high fees.
According to the iResearch survey, teaching quality and outcomes, tutors' educational qualifications and institutions' brands are the top three factors when middle-income parents choose after-school tutoring.
The UBS report expects the current fragmented after-school tutoring market to consolidate, resulting in mergers of big national companies. Top tutoring companies, leveraging their visible and consistent tutoring qualities, appeal to quality tutors and brand recognition, and are better positioned to gain market share.