Internet education next darling of startups in China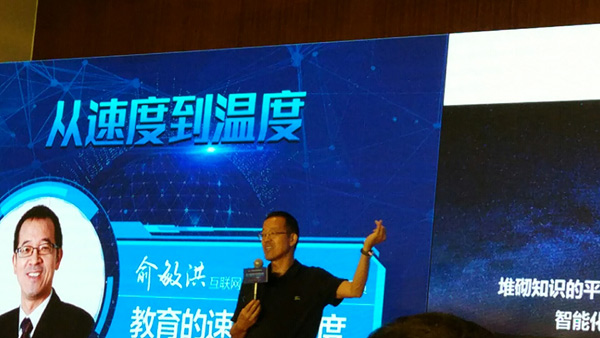 Yu Minhong, director of the Internet Education Committee of Internet Society of China, delivers a speech at the China Internet Conference in Beijing on July 11, 2017. [Photo by Song Jingli/chinadaily.com.cn] 
Internet education will be the next big thing when it comes to attracting startups, said experts at the China Internet Conference in Beijing on Tuesday.
Yu Minhong, director of the Internet Education Committee of Internet Society of China, said he expects the internet education sector, excluding vocational education, will see 40 to 50 listed companies with a total capitalization of about one trillion yuan.
Yu, who is also founder of the New Oriental Education and Technology Group, a private education provider, said that unlike other subsectors of the internet-related economy, the education industry will not be dominated by one major player, like Alibaba in the e-commerce sector and Baidu in the search area.
Huang Huiwen, operating partner and CMO of Sinovation Ventures, said that private investment in China's education sector has exceeded that in the United States. She added that in 2016, China witnessed 13.99 billion yuan  ($2.06 billion) investment in 340 enterprises while the US saw 7 billion yuan in 138 companies, citing data from ITJUZI, a business information service provider and Cyzone and EdSurge.
She said pursuit of good-quality education in China has spurred a boom in private education and international education, citing VIP Kid, which connects Chinese students with American English teachers, as an example, adding that without technologies such live streaming, this would be impossible.
She also shared sectors Sinovation Works believes as promising, including companies that could help Chinese students score high in tests and help blue-collar and white-collar workers gain more skills.
She said she highly values startup founders who know well about education and who also have strong technology capability and are willing to keep upgrading.