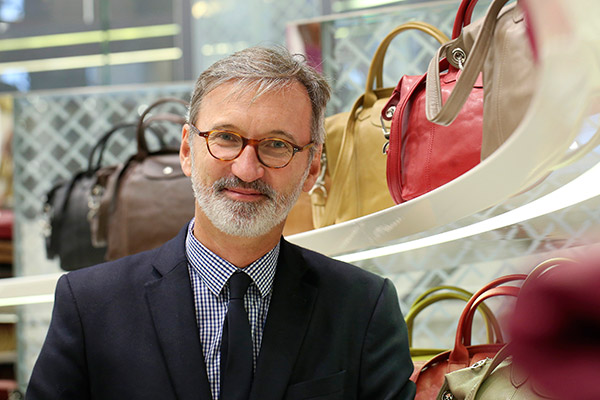 Lean Cassegrain, chief executive officer of Longchamp SAS. [Photo/Agencies]
The head of French luxury label Longchamp outlines his ambitious plans to expand the blue-chip brand in China
For Jean Cassegrain, Longchamp is a way of life. As he looked back, some of his earliest memories were centered on the business founded by his grandfather in 1948.
Walking down memory lane, he recalled visits to the Longchamp workshops in western France and his grandmother's store on the Champs-Elysees in Paris.
"There were family discussions about new ideas, and later trips with his father to exhibitions and trade fairs around the world," a profile supplied by the company stated.
Today, Cassegrain is the chief executive officer of the world-famous family-owned French fashion house in Paris. And he confessed that he never considered doing anything else.
With about 1,500 retail outlets and businesses in 80 countries, Longchamp is a global blue-chip brand with a wide range of luxury collections, including handbags, luggage, accessories, shoes and ready-to-wear clothing.
Annual sales for the group reached 566 million euros ($633 million) in 2015, the latest financial figures the company released. This was an increase of 14 percent compared to 2014.
In China, local sales jumped by 30 percent during the same period, although the company did not release detailed numbers.
"We plan to open more stores in China to expand our presence," Cassegrain said. "The Chinese economy is growing, and more and more people want to buy luxury products."
Back in April, the company opened its flagship store in China at the Kerry Center in the heart of Shanghai. This marked an important milestone for the group.
"We are confident about Longchamp's prospects in China," he said.
In a far-reaching interview with China Daily, Cassegrain talked about the company's growth strategy, his management philosophy and his passion for skiing.
How do you assess the prospects of your business in China and its economy?
We still have a lot of potential for growth. So far, we have 18 stores in China, but there is potential for us to open more at new locations. There are still cities where we are not present and where we could consider opening an outlet.
In general, the Chinese economy is still growing, and there are more and more people here who have achieved a financial level where they can buy luxury European brands. I think for Longchamp there are a lot of opportunities. We will continue to grow in the years ahead.
What are your investment plans in China?
The new store we opened on Nanjing West Road of Shanghai is a big investment and a significant step for the brand.
In October, we will open a new store in Beijing at a landmark shopping mall on Wangfujing Street. We are considering opening stores in second-tier cities that we are not present in, such as Changsha, in the coming months.
Who are your target customers in China and how will you attract them?
I think our brand is unique and that means we will be able to reach a wide range of people. We are not a niche brand, so we don't focus on a specific category of client. Our customers in Europe can be teenagers, mothers, grandmothers or entire families.
It is difficult to pinpoint a precise category for our products. One of the reasons for our success is that we can sell to a large variety of people. The Longchamp range is very broad, with a lot of colors, shapes and price ranges.
How do we reach them? First, we open a store in the right location, to advertise our brand to the public. I think that is very important. Moreover, we have to use all the communication methods that we can, including newspapers, magazines and online channels, such as WeChat.
Do you cooperate with e-commerce giants such as Tmall or JD.com to sell products?
The only official channel is through our Longchamp WeChat account. We don't sell any products on the platforms that you mentioned above.
We want to develop online channels and have already sold a lot of our products via the internet in the United States and Europe. It is our plan to continue developing our online sales channel in China.
What are the biggest opportunities and challenges for Longchamp in China?
The biggest opportunity is the market and the consumer. China is a huge market and there are a lot of opportunities for us. So far, we have only scratched the surface. I think we still have a lot of potential as there are so many people here that don't know our brand.
The challenge is that we need to adapt to the way business works here and how to communicate with our customers. Another challenge is to get good store locations. You need to be very patient. We spent five years looking for the location of the store on Nanjing West Road in Shanghai.
How do you view the luxury market in China?
It is true that a lot of Chinese customers buy products overseas. As the market is becoming more mature, the goal of our company is to sell more here. We want to bring more business to China-that is our strategy. I am very confident with our business in China. The market is still growing as people's income levels rise.
What is your biggest achievement as CEO?
Well, to be honest, it is not just about big achievements. I believe I can make a small one every day before I go home in the evening. The plan at Longchamp is to work as a team and to achieve as a team.
What is your management philosophy?
A great deal is about trial and error. We try many things and very often we failed. But it doesn't matter as we move on to something else and we try to learn from our mistakes.
How do you manage the international team at Longchamp?
You must retain a balance between control and freedom. China is a very specific market, so we trust our local team to do the right things. We want to give them freedom and control in line with the brand value. As long as the brand value and image are respected, we offer a lot of freedom. We need our local teams to be independent, so they are able to manage by themselves.
How does Longchamp keep pace with the latest fashion trends?
My sister is the creative director and her team are always looking for fresh ideas. It could come from anywhere such as a painting. The creative process is very mysterious and ongoing. She is never on vacation and is always dreaming up new ideas.
What are your hobbies away from work?
I enjoy skiing very much. It is my favorite hobby, but then I like most sports.
CV
Age: 52
Nationality: French
Career:
1991: Joined Longchamp as he is the grandson of the founder
Education:
1986: Graduated from École Supérieure de Commerce in Paris
Family:
Married with three children