Shanghai father makes 100 dresses for daughter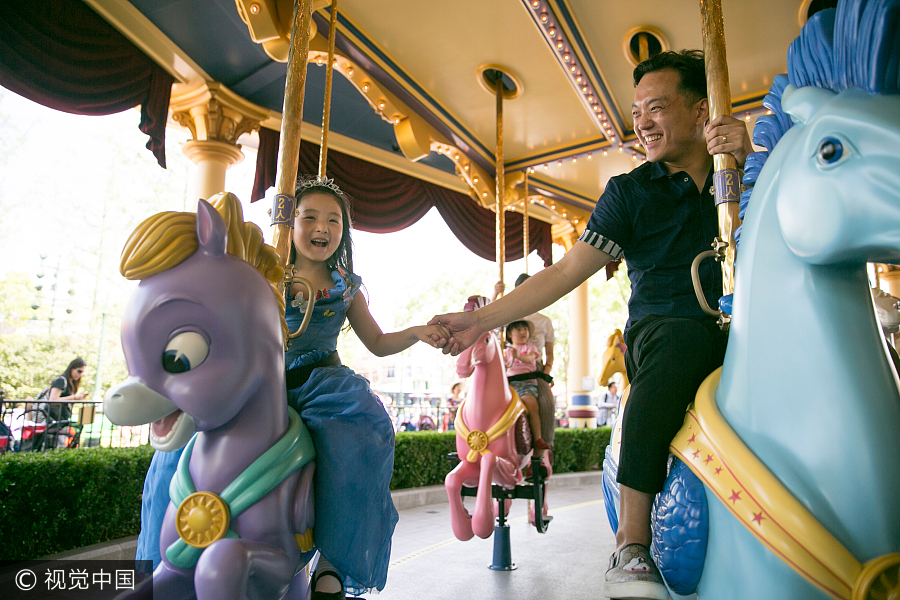 Mantou and her father ride the merry-go-round at Shanghai Disneyland, May 21, 2017. [Photo/VCG]
Mantou has one of the biggest dress collections for a 5 year old girl. Her large wardrobe is the work of her costume designer father Qian Xiaofeng who has made 100 dresses for his daughter since she was born.
When Mantou was born, Qian resigned from his job in Shanghai to be a stay-at-home dad.
"My wife and I have an agreement that one of us must accompany our daughter as she grows up. Because my wife had a good job opportunity at that time, I decided to stay at home," Qian said.
Qian had studied international trade and market management in France for eight years, and his job nothing to do with the clothing industry.
When he first began designing clothes, Qian would hand them to his friend, a tailor, to complete the job. Qian then took clothe making classes for six years, and studied online.
Now, he can make design and sew dresses himself. Qian said he loves the arts, and he studied painting for nine years when he was a boy.
As Mantou grows up, Qian has started his own kid's fashion business, co-founding a kid's clothing consulting platform with two friends.
Although Qian's work is busier than ever, he manages to make a new dress for his daughter every two weeks.