French entrepreneur's Chinese dream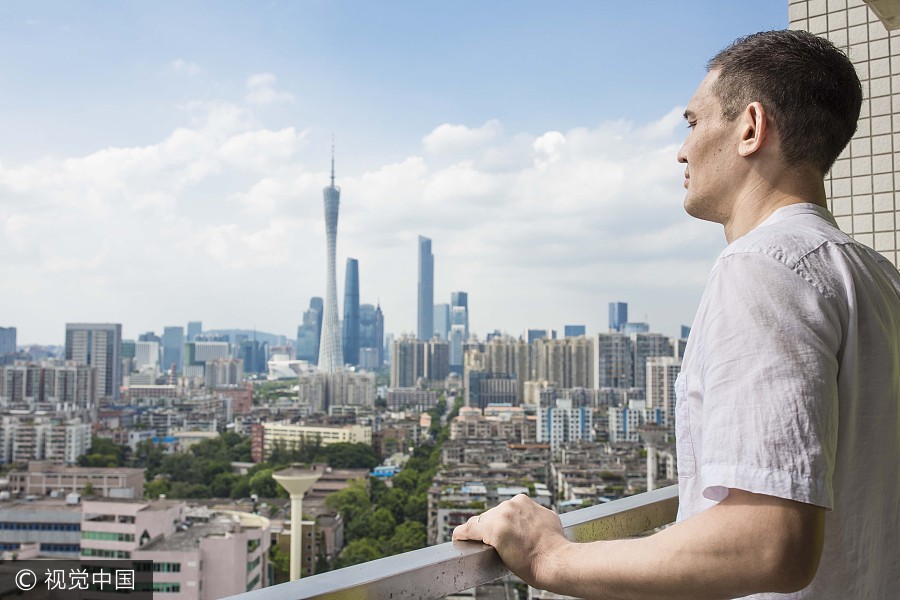 Julien Vandelli stands at the balcony of his home reflecting his entrepreneurial experiences in Guangzhou, South China's Guangdong province, Aug 8, 2017. [Photo/VCG]
Julien Vandelli is a French entrepreneur who came to learn traditional Chinese medicine (TCM) about 6 years ago in Guangzhou, South China's Guangdong province.
Initially, he just wanted to learn TCM to cure his mother's disease and didn't expect to start his own business by teaching Brazilian Jujitsu and establish a family in China.
Vandelli was an interior kitchen designer in French about 10 years ago and he decided to come to China within one week after learning that he could learn TCM at Guangzhou University of Chinese Medicine.
When he first came to China, he couldn't speak any Chinese but now 37-year-old Vandelli can correctly identify more than 300 acupuncture points.
As a Brazilian Jujitsu Champion of 76 kg lightweight at French Open in 2006, Vandelli started to promote Brazilian Jujitsu at Tianhe Stadium in Guangzhou, where he met his wife Zou Yuyan.
Zou Yuyan is also an enthusiast of Brazilian Jujitsu who supports Vandelli's career move.
Currently, Vandelli's business is doing well and he not only has one daughter but also is going to have a second child.Although there are some cultural shocks in daily life, Vandelli enjoys his entrepreneurial experiences in China and is glad to realize his Chinese dream.