Young urbanites to spend less, but luxury sector may shine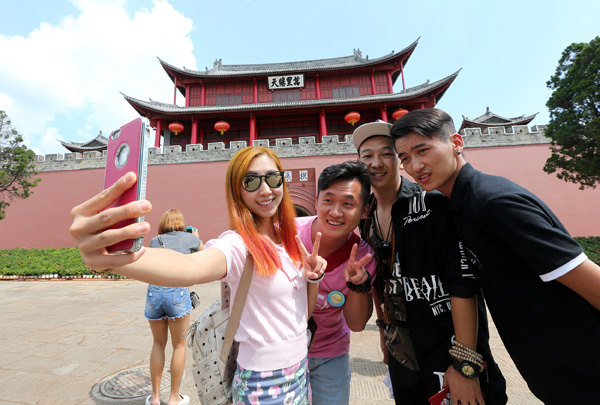 Tourists take a selfie at a sightseeing area in Dali, Yunnan province. [Photo by Yang Zheng/For China Daily]
Young urbanites, among the key drivers of China's consumption-driven economy, may not increase their total spending this year due to slowing economic growth and dimmer prospects for pay rises, according to a report by UK research firm Mintel.
It found, however, that they were likely to be more generous on expensive products or experiences that are conventionally considered unnecessary.
The Mintel report, based on a survey of over 3,000 consumers aged between 20 and 49 and from China's first-to third-tier cities, found that 62 percent of the interviewees said they would not spend more than last year, up from 53 percent in 2016.
Last year, total consumer expenditure in China rose 10.5 percent on the previous year to more than 33 trillion yuan ($5 trillion), according to figures released by the National Bureau of Statistics. But the rise was mainly driven by housing, which analysts say has in fact become more of an investment for future.
"Consumers have become more conservative spenders," said Xu Ruyi, head of research for Mintel China, which tracks spending across the country's 15 major consumer markets and releases the report annually.
But consumers, paradoxically, are eager to live more exciting and healthy lifestyles, which consequently led them to be smarter shoppers, able to gauge a product's quality and value before paying, so as to make the most of their budget to enjoy an upgraded lifestyle, Xu noted.
The report found that as a result, young urbanites may not blindly chase big Western brands simply because they were well known, creating a more level playing field for small Chinese brands created by startups.
A leading example, given by the consultancy, is the popularity of yoghurt brand Le Pur, founded in 2015 in Beijing by a young Chinese couple. Within less than two years, it has grown to sell 100,000 cartons of yoghurt a day and supplies to luxury hotels like the Peninsula and Waldorf Astoria.
"Their market share is still very small. But every big player, domestic or Western, is consulting us on its sudden rise. It's like the market disrupter or Airbnb for the yoghurt industry, and a perfect example on how to redefine good value for money," Xu said.
Less than one-third of the surveyed cited "low prices" as a criterion for "good value for money". Instead, desirable packages and design and multifunctions were taken into consideration.
The categories that experienced the most growth in 2016 included holidays, transportation, leisure and entertainment, the report found, a trend expected to continue, if not accelerate, in the coming years.
Mintel forecast that consumer expenditure in China would enjoy 8.4-percent compound annual growth rate through to 2021, reaching 49.7 trillion yuan, and holidays would overtake clothing and accessories to become the third largest spending sector.
The projected growth over the next five years is close to adding another consumer market the size of Germany's today.