SOEs steps up deleveraging via debt-to-equity swap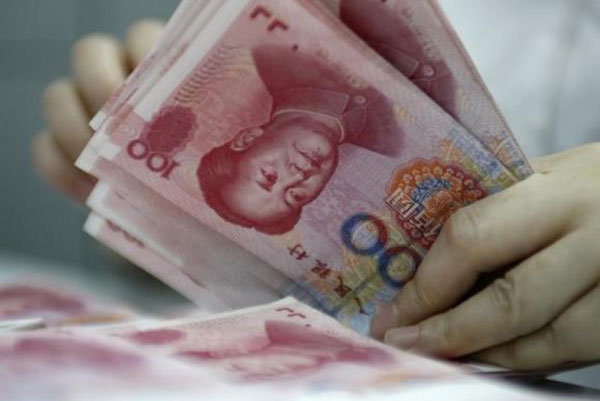 An employee counts yuan banknotes at a bank in Huaibei, Anhui province, June 22, 2010. [Photo/Agencies]
China's State-owned enterprises (SOEs) will play an exemplary role in controlling debts and reducing financial leverage, according to a report by Economic Information Daily on Monday.
To date, 12 centrally administered SOEs have entered into debt-to-equity swaps framework agreements in a bid to deleverage, the newspaper reported.
Debt-to-equity swap deals are an important tool for SOEs' deleveraging. With the progress of such deals, enterprises will be in a better position to reduce non-performing assets and reduce debts burdens, the report said.
In the recent National Financial Work Conference, the central government required that SOEs give priority to deleveraging and speed up the phase-out of debt-laden "zombie enterprises".
China's non-financial SOEs have a high rate of leverage. Data from the Chinese Academy of Social Sciences showed that the leverage ratios of financial institutions and non-financial institutions were 21 percent and 156 percent respectively as the end of 2015, the Economic Information Daily reported.
It meanwhile quoted unnamed separate data as saying that debts from SOEs accounted for 70 percent of the total of non-financial enterprises.
"The State-owned Assets Supervision and Administration has attached great importance to risk prevention of central SOEs," said Shen Ying, chief account of SASAC, the State-owned assets regulator, at a recent news conference.
The SASAC has done a lot of work in deleveraging this year, Shen said.
It encourages enterprises to improve capital structure by raising funds from the capital market via IPOs or share placement, she added.
Meanwhile, it supports enterprises to conduct asset securitization and pushes them to activate the existing funds to reduce reliance on debts.
Shen believed that the financial structure of central SOEs will improve and their risk mitigation capability will increase as the enterprises implement various reform measures.
At present, central SOEs such as China Baowu Steel Group Corporation and China First Heavy Industries have made positive results in conversion of debts into equities, the report said.
In March, State-owned China Construction Bank signed a 20 billion yuan ($2.96 billion) framework agreement with coal producers Lu'an Group and Shanxi Jincheng Anthracite Mining Group and the Shanxi Provincial SASAC in a bid to reduce leverage and promote the supply-side structural reform in the coal sector.
The first phase of funding valued at 1.8 billion yuan from a debt-to equity swap deal between Anhui Provincial SASAC, CCB and Anhui-based Huaibei Mining Group was delivered last month, while central China's Henan Energy and Chemcial Industry Group has recently received 5 billion yuan first-phase funding from its debt-to equity deal.
China's banking regulator has recently approved the establishment of CCB Financial Asset Investment Co Ltd, the first market-oriented debt-to-equity swap company, with a registered capital of 12 billion yuan.