Super cool Finnish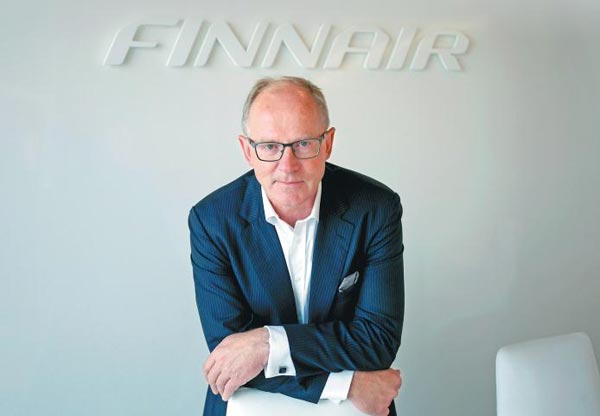 Pekka Vauramo, chief executive officer of Finnair Oyj. [Photo/Agencies]
Pekka Vauramo has always tried to bring a touch of Nordic culture to his Chinese customers.
The chief executive officer of Finnair Oyj is keen to uphold a 30-year-old tradition, which dates back to 1988, when Finland's national carrier became the first airline to fly directly from Europe to China.
"We want to bring something Nordic that is acceptable to our Chinese customers," Vauramo, 60, said. "Then, of course, there are many other things that have contributed to our growth today."
Celebrated chef Steven Liu has played a major role by creating the menu for business class passengers. The famed judge on MasterChef China uses typical Finnish ingredients cooked in a Chinese style.
"People, of course, like the stories of Finland, Santa Claus and Northern lights," Vauramo said. "Naturally, Finnair is associated with Finland."
But behind the historical veneer, Vauramo is a pragmatic operator, who completed a major cost-saving and restructuring program two years ago.
Now, the airline is looking healthy with revenue in the first quarter jumping by 3.3 percent to 554 million euros ($638 million) compared to the same period in 2016.
"China and the Republic of Korea were the biggest contributors," Finnair reported in its first quarter results. "The number of passengers (also) grew by 4.1 percent with fuller planes."
The European carrier employs more than 5,000 staff and flies to over 100 global destinations. But Vauramo stressed that China is the country that offers "significant growth potential".
In an in-depth interview with China Daily, he talked about his love for the company, the rise in Chinese tourism and his green car.
Finnair was the first European airline to launch direct flights between Xi'an and Helsinki, and Chongqing and Helsinki in the past few years. How are those routes performing?
They are certainly doing very well. If you are a pioneer, it will be difficult when you first start. It takes time before the flights develop and mature.
When we went to cities such as Xi'an and Chongqing, we started from zero, but we have built reputations there. We started selling, marketing and creating a business relationship with travel agencies and visa outlets. It takes time, but we had the passion and commitment to do that.
Will the Chinese passenger market to Northern Europe continue to grow?
Even now it is growing at a higher rate. During the first quarter of this year, the number of Chinese tourists who went to Finland jumped by 75 percent year-on-year.
In 2016, the growth rate was 30 percent to 40 percent, so it is expanding nicely.
What are the reasons behind this high growth?
Chinese people have started to travel the world. At first, it was to destinations such as Japan and the Republic of Korea.
Now, they are looking for other places where they can go and Northern Europe has become a hot destination. They want to find something new.
Besides Helsinki, we have connected flights to more than 100 cities in Europe, so you can do both. If you want to go to Paris during the same trip, the flights are relatively short.
Do you plan to launch more flights between cities in China and Finland?
Yes, of course. We are looking at other cities in China, including some smaller ones, while we also want to grow our routes to Beijing and Shanghai because the demand is there.
In Beijing, Shanghai and Hong Kong, we have daily flights, and we are going to increase the frequencies during the summer season.
Are there concerns about overcapacity?
Look at the global market, there is overcapacity. But as long as we can retain growth on routes that are relevant to us, I am not that concerned about it.
Even though we have increased traffic numbers between Europe and China, we are a very small airline globally.
Do you see more passengers flying from China to Helsinki in the summer compared to the winter?
That really depends. We do have higher numbers flying with us in the summer, but the growth figures are bigger in the winter. We also see more individuals and families traveling with Finnair instead of groups.
From June, passengers were able to use Alipay and Wi-Fi on all Chinese routes. It makes purchasing and shopping easier on aircraft. As well as that, Chinese passengers can now use Alipay at Helsinki airport through their smart phones.
Are flights with Alipay popular?
Yes, the numbers back that up. Sales are higher on those flights, increasing by 100 percent to 200 percent.
Why do you like working at an airline company?
Four years ago, I was asked whether I would join Finnair. I traveled a lot with the airline in my previous job. But Finnair represented something close to me . . . it used to take me home.
That alone made it an easy decision to join the company.
Many people get inspired and are passionate about the aviation industry. And, of course, I have found the journey exciting during the past four years.
I am pleased with the way things have developed. We have moved on, and we are growing rapidly. Finnair is doing this right now.
What are the highlights of your career at the airline?
When I started, we spent a long time restructuring, cutting costs, outsourcing and laying off people. But I knew we had to do something else.
Two years ago, we were the first European airline to use the new A350 aircraft. It was a great moment when it came into service. But we needed to do something more as well because new aircraft will not solve all the problems.
So, we decided to expand certain services. We are still doing this right now by adding extra cabin crew to our flights. They, in turn, will have more time to serve passengers.
We have also made it easier for passengers to buy goods on board with Alipay. All in all, we have improved profitability since 2015.
Has the A350 helped fuel growth for Finnair?
Of course it has. Firstly, it is slightly bigger than our previous aircraft. It is also a bit faster than other jets in our fleet and is more competitive.
It means we can take more passengers with 20 percent less fuel. It is very quiet and more comfortable for customers. They like the aircraft . . . it has also attracted a great deal of interest.
By the end of the year, Finnair will have 11 A350s in its fleet.
Does Finnair have any business plans related to the Belt and Road Initiative?
When you look at what the airline is doing, it is really building connections between Asia and Europe. We also realize that China is the biggest growth market we cover.
So, we are providing flights to exciting destinations for passengers in Europe and in China. We were the first to start flying from Xi'an to Europe, and we want to continue to contribute.
It is all about an exchange of ideas, culture and knowledge.
What are the challenges facing Finnair in China?
Like any business today, there is tremendous competition. Customers can easily compare prices as they have more options on the internet. This brings challenges to the financial side of our company.
But we have gone through a round of cost cutting, and the airline is leaner. Still, we are not the only carrier flying to China, although we do have a very good relationship with our customers.
Hopefully, we will maintain and expand our market share.
Do you have a green lifestyle?
Tough question. I do drive a hybrid car that I can charge by plugging it into the mains. I also prefer organic food.